Two budding astronomers, and Maui Economic Development Board STEM (science, technology, engineering, mathematics) students, freshmen Wilson Chau and Holden Suzuki from Maui High School continue to hone their skills at solving the mysteries of the universe. Recently, Chau and Suzuki observed NASA's Lucy spacecraft on its journey to visit several Trojan asteroids. The Valley Isle teens used the Faulkes Telescope North on Haleakala, part of the Las Cumbres Observatory global network of telescopes, to make the observations.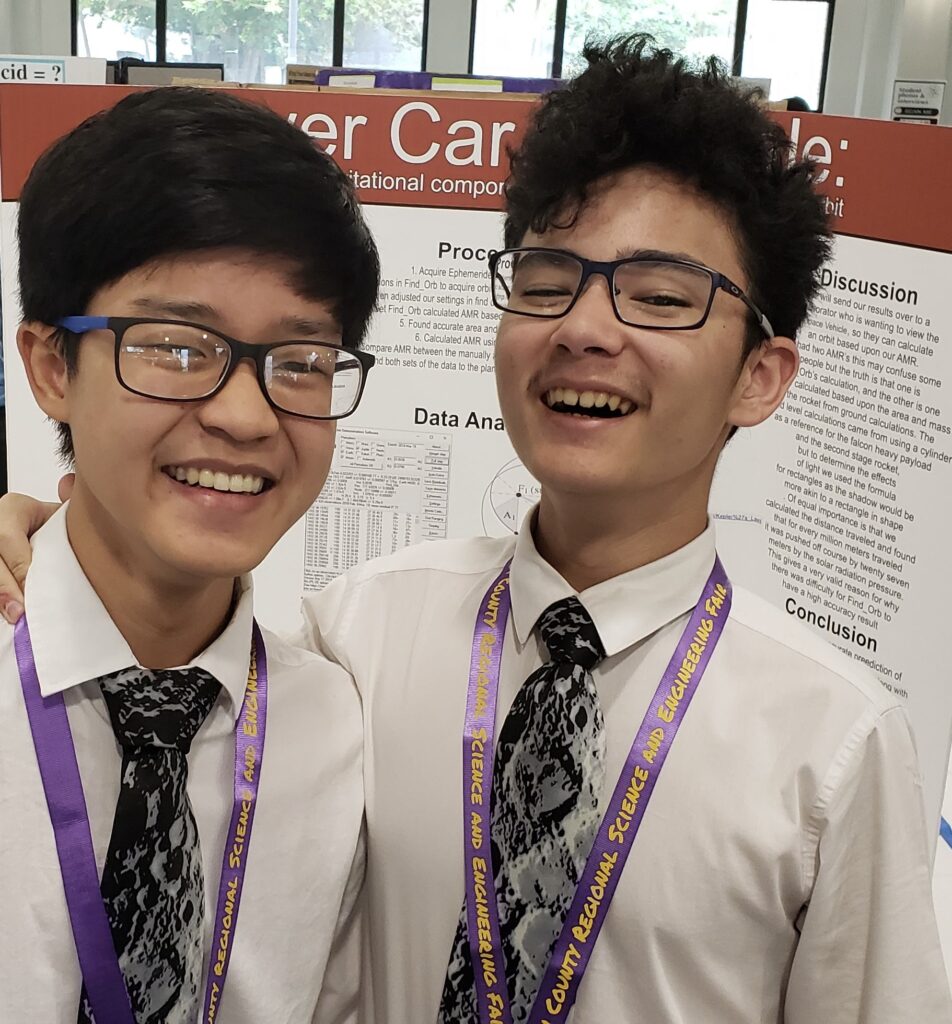 "On the day of launch, I was viewing the NASA livestream," Chau said. "It was incredible seeing the trajectory pass the livestream's viewing point. The ambitious Lucy mission's primary targets are eight Trojan asteroids, primitive asteroids that share Jupiter's orbit and could shed light on the formation of the solar system. Before arriving at its destination, the spacecraft will make three passes near Earth for gravitational boosts, and visit the main-belt asteroid 52246 Donaldjohanson."
Chau and Suzuki are not new to studying spacecraft. In 2018, their observations of the famous SpaceX Tesla launch earned them top awards at science and engineering fairs at both the county and state level. "Doing this current work with Lucy is a great way to merge all of our previous work," Suzuki explained. "When we found out that our data was helping scientists, I felt star-struck. It really makes me feel good thinking that even a kid like me whose family is not particularly wealthy can make a huge difference and really help people who change the world." The pair plan to use the data they have obtained on Lucy as the foundation for their entry in the 2022 Hawaii State Science and Engineering Fair.
Chau and Suzuki intend to pursue science-focused studies and future careers in the field. Chau dreams of working in STEM and Suzuki aspires to a career in astrophysics. Both aim to study exoplanets and asteroids. Chau noted, "Astronomy has always excited my mindset for the endless possibilities that could be discovered in the vast area of space as well as being able to learn great science all around."
In May 2021 our observations of the defunct Orbiting Geophysical Observatory satellite, OGO-1, received national media attention. Plus, along with our mentor Dr. J. D. Armstrong and classmate Jed Teagarden, we appeared on the Xploration Awesome Planet television series
Wilson Chau and Holden Suzuki, Maui High School freshmen