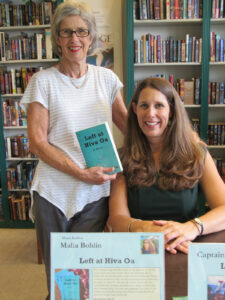 Maui author Malia Bohlin recently released her first novel, Left at Hiva Oa. Bohlin tells the dramatic story of her father, Ken Bohlin, who followed his dream of sailing around the world on the 40-foot schooner, the Gracias. Bohlin, a US Marine Merchant Academy graduate, started his adventure with other alumni. Even with their careful planning, training, and enthusiasm, things eventually went awry. Everything changed: the plans, the crew, and ultimately the course of the Gracias, leaving one of them to cross the Pacific, from the Marquesas Islands to Hawaii, alone.
"Though he was well-trained, life on the high seas brought Dad unforeseen challenges," said Bohlin. "In a frantic battle for his life, he relied on his knowledge and faith to save him. Arriving on Maui in 1974, he worked for 15 years as the harbor pilot for Kahului Harbor. Later he served as captain for Kahului Harbor's tug boat, the Joe Sevier. He was well known on the Maui waterfront and throughout Hawaii. His colleagues still remember him, talk about his seafaring journey, and have enjoyed reading the book."
Malia's mother, Jennifer, was amazed at how vividly the book portrays her husband's life at sea. "Malia's dad told her the various elements of his voyage and by re-telling his adventure she has memorialized him," she said. "Ken passed away in 1993. He would be so proud!"
Diane DeVey, a fan of the book, said, "I was immersed in this novel from the first page. What captivated me about Captain Ken was his determination to live out his dream. His story is an inspiration to all."
Malia Bohlin was born in Honolulu and raised on Maui. She attended Baldwin High School where she placed second in a state-wide creative writing contest during her junior year. At the University of Hawaii-Manoa, she was a reporter for the school newspaper, Ka Leo. In her Maui profession as a grant specialist, Bohlin has produced many fundraising proposals, speech presentations, and grant requests– raising millions of dollars for local and national nonprofit organizations. She is currently writing her next book.
Left at Hiva Oa is an incredible story of determination: the determination to dream, to stand by your principles, and to stay alive, when all you have is yourself.
Malia Bohlin, Author: Left at Hiva Oa