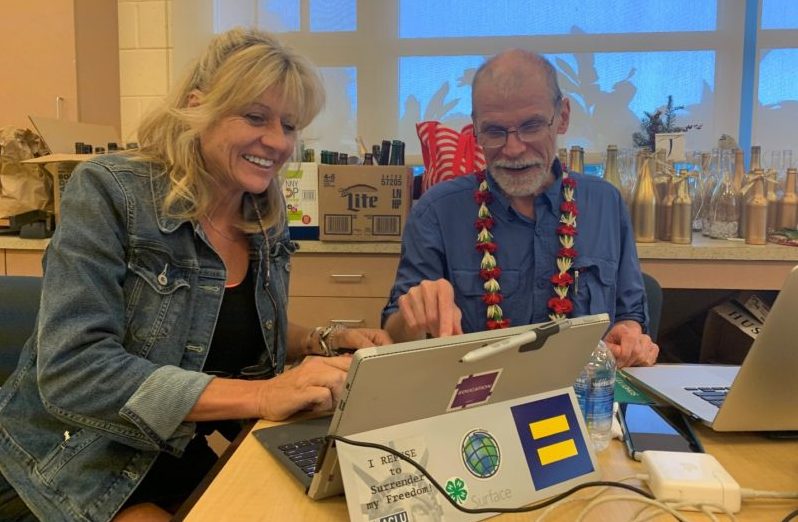 For over 15 years, Maui Economic Development Board's (MEDB) STEMworks™ has partnered with Charlie Fitzpatrick, Environmental Systems Research Institute (ESRI) Education Manager. Together, they provide Geographic Information System (GIS) training for students and teachers throughout Hawaii. ESRI, the global market leader in GIS, creates the world's most powerful mapping and spatial analytics software called ArcGIS. It supports not only industry, but also offers free software and lessons in K-12 subject matter. MEDB recently held a Maui GIS workshop to teach educators how to provide a map-based curriculum in the classroom.
"Students who embrace GIS learn a new way of problem-solving and can parlay their knowledge into paying work," said Fitzpatrick. "GIS offers both a current and a historical perspective on our world, acting as an adjunct to textbooks. Students can explore at their own pace and drill down into maps to understand the context of coursework through the lens of geography, taking information in a raw form and making it more accessible. Schools are currently teaching with GIS software and students are reacting with enthusiasm. Today's interactive maps  really wow the kids. It is such a natural tool for students, who are digital natives."
GIS shines in project-based learning where students have to create a question, go through steps to collect and analyze data, and then present their results. Anything can be studied with GIS. With project-based learning, the chosen subject forms the basis for the entire curriculum.
Jackie Provance, Kihei Charter School teacher, reflected, "I am excited to explore ESRI's lessons and use them in my classroom. Part of the magic is that you can see, create, manipulate, and analyze the mapping data. Fitzpatrick encouraged us to explore the system and take it in different directions, at our own pace. These are powerful tools to engage students."
"Fitzpatrick's workshop was worthwhile and inspiring for me," said Janyce Omur, Maui High School teacher. "His hands-on approach to GIS mapping made the workshop highly relevant and practical, affording us the opportunity to implement the strategies in our classrooms. I would highly recommend this workshop to all teachers."
GIS can be applied to help solve a wide range of problems through hands-on experiences that teach valuable skills.
Charlie Fitzpatrick, ESRI K-12 Education Manager