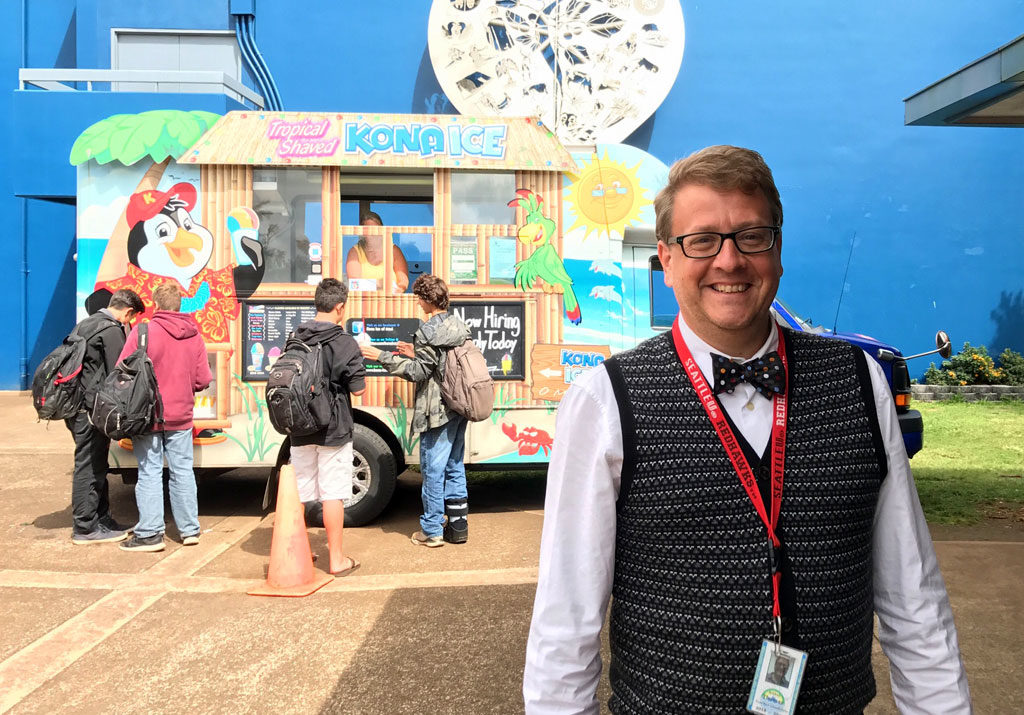 Art Thomas' Kona Ice business operates two unique shaved ice trucks on Maui that cater to parties, fundraisers and events of all types. Thomas, a technology teacher at Kalama Intermediate School, owns trucks that are not only fun to look at: they serve the coolest shaved ice around. "In our six-plus years, we are proud to have raised over $100,000 for local student organizations," said Thomas. "It's essential to establish team scholarships for players based on financial need. I grew up in a poor household and received generous donations to participate in sports programs. Because I was afforded that opportunity, I want to give back."
Most of Kona Ice's business is done at youth sports events. Once proper paperwork is approved with the county, the trucks show up at the events and give 20 to 30 per cent of the profits to the organization. "It's the perfect snack that meets all of the federal nutrition guidelines for schools and is one of the easiest ways to reward students and raise some funds at the same time," said Thomas.
Kona Ice has been a key contributor within the Maui soccer community as well as to robotics and engineering programs, Hawaiiana clubs, and more. "Through its vending at Hawaii Soccer Federation (HSF) leagues and events, and then giving back a portion of its proceeds, Kona Ice has been providing sweet memories and financial support towards the development of youth on Maui," said Vernon Kapua'ala, HSF President and CEO. "In the past two years, HSF's leagues and programs have expanded to include more players, teams and programs, on Maui, Kauai, the Big Island, and Oahu. Kona Ice's support of HSF has helped to empower that growth. This stems from Thomas' understanding of community, and the idea that giving back is an integral part of producing a community that thrives. We send many mahalos to the Thomas ohana for their service to our youth organizations, and hope our partnership and friendship continues for many years to come!"
We are committed to giving back to the youth in our communities. It's not an afterthought, it's who we are!
Art Thomas, Kalama Intermediate School Technology Teacher, Kona Ice Owner