Exciting projects, industry-best benefits and flexible working arrangements are a few of the reasons that Kihei-based Centauri was recently named a 2020 Hawai'i Best Place to Work by Hawaii Business Magazine. Centauri is a technology company providing high-end, creative software and engineering solutions to critical national security missions across space, cyber, missile defense and intelligence domains.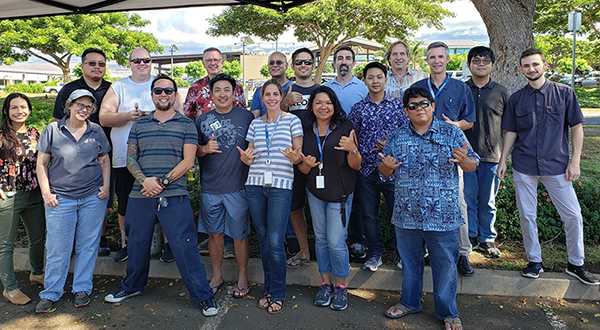 Although headquartered in Chantilly, Virginia, Centauri has a long-standing office in Kihei. The nearly 50 employees in Kihei support federal government customers in high-tech areas such as space domain awareness. Centauri's corporate strategy brings together top experts in STEM fields (science, technology, engineering, mathematics), as well as intelligence operations and analysis.
"There is a sense of energy, drive, pride in accomplishment and commitment in the work at Centauri," said Daron Nishimoto, Centauri Director of Advanced Technologies. "Our pervasive culture of excellence in all that we do defines who and what we are, as we focus on the important missions of our customers.  Because our employees are our most valuable asset, we have built a company that recognizes the achievements of our team members."
Centauri offers career opportunities and paid military leave for both veterans and their spouses, which is why more than 35% of employees are veterans. "For many veterans, the Centauri culture embodies a comparable sense of camaraderie and values instilled in the armed forces," said Nishimoto. "We do work that matters on cutting-edge technologies critical to our nation."
Centauri's flexible work environment allows employees to be in charge of their hours, allowing them to accomplish their work on their own schedule so they do not have to sacrifice important appointments, school events or family needs. As for benefits, the company offers a high-match 401k and a selection of generous healthcare packages including medical, prescription drug, dental and vision, flexible spending accounts, life insurance, and survival support. Employee charitable contributions are matched, and stipends for continuing education are provided.
"Everyone in Kihei, and even those reporting into Hawaii from the continental US, genuinely enjoy working with us," said Nishimoto. "Ultimately, our workplace culture of excellence defines our success and makes Centauri a Best Place to Work in Hawaii."
At Centauri, we have been recognized by major nationwide and local awards programs. Presently, we are welcoming 2020 Summer Interns to our first-ever virtual program.
Daron Nishimoto, Centauri Director of Advanced Technologies