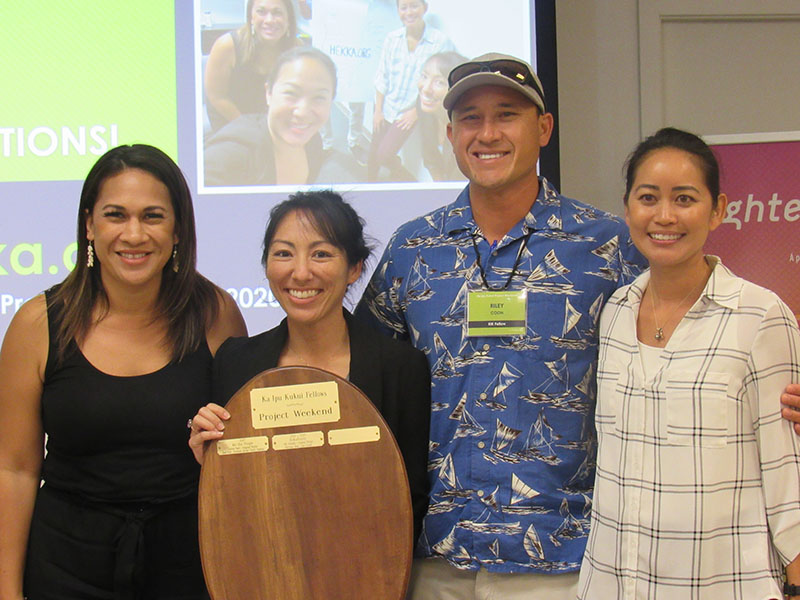 Ka Ipu Kukui Fellows is a nonprofit community-based program created to identify and develop Maui's future leaders. To date, over 150 accomplished young professionals have graduated from the year-long program. The Fellows are a diverse cross-section of residents drawn from business, government, academia and nonprofit organizations. In January, the group took part in Maui Economic Development Board's (MEDB) Project Weekend. The preparation for this weekend began with a 60-second pitch exercise on Friday evening.
"We wanted to give the Fellows some tips and rehearsal for their pitches," said Frank De Rego, Jr., MEDB Director of Business Development Projects and facilitator. "It sets them up for an intense weekend with the fellows working in teams through all the various aspects of project development to better address Maui Nui's challenges."
Coaches, with their backgrounds as business and community leaders, mentored the project teams the following day. The weekend culminated on the Sunday afternoon with the teams presenting a 5-minute pitch presentation to a panel of judges comprising of accomplished Maui Nui decision makers and influencers. A winner was announced although the emphasis of the weekend was on the learning process and for the Ka Ipu Kukui Fellows to get an immersive understanding of developing a project from start to finish.
The winning Project Weekend team included project creator Ashley Takitani-Leahey with Riley Coon, Teana Kaho'ohanohano, Jeeyun Lee and Carrissa Holley. "Project Weekend was intense but incredible," said Holley. "I got to spend time with an amazing team. Combining all our skills, we learned so much from each other. We are all grateful to have such an amazing and supportive team here at MEDB who was there for us through thick and thin."
Judge Brittany Heyd, cofounder of Mana Up, added, "The participants had their own angles and expertise on how to support Maui and solve problems that they foresee in the future. It was inspiring to see them use their own resources and work as a team to get the job done. We need our young leaders to step up with more innovative ideas for the future."
With the social distancing regulations taking place on Maui for an indefinite time, Ka Ipu Kukui is looking at alternatives for the current and new cohort. Visit https://kaipukukui.com for more information.
The Fellows awareness of diverse topics and perspectives amazed the judges who had a difficult time choosing the winners.
Gerry Smith, MEDB Director of Business Development