Hosted by Maui Economic Development Board (MEDB), fourteen aspiring leaders came together virtually for the Project Weekend event, to work on solutions to diversify Maui's economy. Project Weekend is specifically designed for the Fellows of Ka Ipu Kukui, a year-long program designed to train community-identified future leaders and conceived to address planning for Maui Nui's future.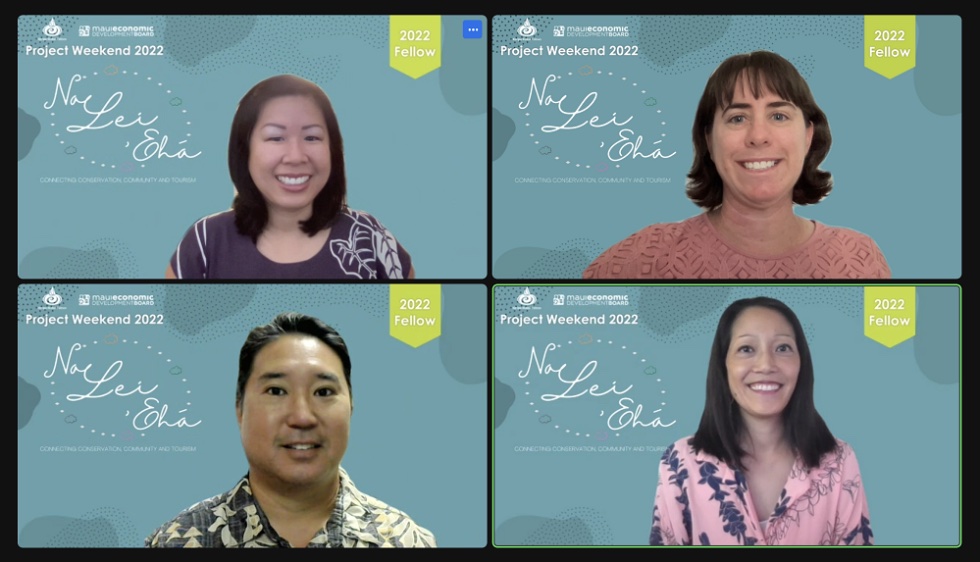 "This year, the Fellows were given a specific problem statement in what was called a "Civic-thon Challenge," said Facilitator Frank De Rego, Jr., Director of Business Development Projects with MEDB. "The task for the weekend was to design a project that addresses the challenge of building a diverse, robust, resilient, and sustainable economic present and future for the residents of Maui County."
The event kicked off with instructions provided by the MEDB team and a presentation by guest speaker Steven Bond-Smith, an assistant professor with the University of Hawaii Economic Research Organization (UHERO). Bond-Smith shared concepts from his research that the cohort could consider for their projects. After the presentations, the groups divided into three teams and began to brainstorm in breakout rooms. Key areas they worked on included defining the problem they were solving; their solution, value proposition and beneficiaries; and funding model, goals and impact.
"An important activity of the weekend was for the teams to validate their ideas with the potential users and stakeholders," said Amber Hardwick, Ka Ipu Kukui alumna and Board Member, and Program Manager at MEDB. "Usually this would mean getting out and speaking to the public, but this year we did everything virtually and validation was done through phone calls and online surveys."
Teams presented their projects with a 7-minute pitch to a virtual audience including a panel of three judges comprised of accomplished Maui Nui decision makers and influencers. After all teams received feedback from the judges, a winner was announced: the Na Lei Eha team, Rebecca Pang, Sarah Loney Mark, Shayna Decker, and Dean Tokishi. Ka Ipu Kukui will be accepting applications for the 2022-23 Cohort in early summer; visit https://kaipukukuifellows.org/ to learn more.
The Ka Ipu Kukui Fellows will continue to gather in monthly hālāwai (meetings) to further develop a holistic appreciation and understanding of Maui Nui's unique challenges to better address them in the future.
Frank De Rego Jr., MEDB Director of Business Development