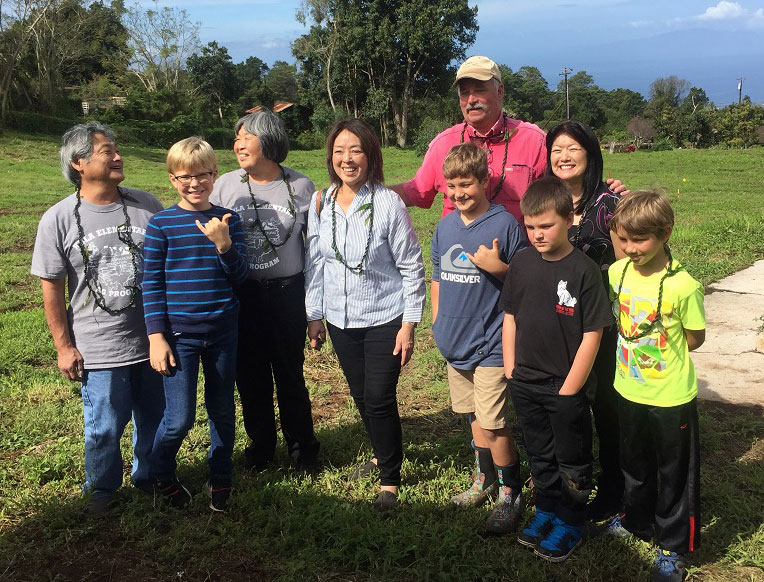 Principal Chris Bachaus of Kula Elementary School had a vision. He began working on a project to help students that were struggling with STEM (science, technology, engineering, mathematics) classes in the Kula community. "Many of our students weren't getting the basic concepts behind their classroom-based lessons, so I decided to take it into the real world and teach them in a functional, project-based environment, a farm," Bachaus said.
Principal Bachaus convinced the Department of Education (DOE) to allow him to use the six acres Kula School owns in Keokea to start an Agriculture (Ag) Science Program for his students. This property was the site of the old and historically significant Keokea School, abandoned when the current Kula School opened, in 1964.
"In past years, Kula has been involved in commercial agriculture and still has an economic dependence on farming," Bachaus explained. "Many of these students have a strong connection to the land in their family life. By connecting them to their roots, we hope to reinforce the mastery of STEM technology through an Ag educational experience. This program is also a means to connect the students to their sense of place–they will learn responsibility and respect for the land and gain an understanding that will better prepare them as future decision makers and leaders in the community. Projects include growing plants, produce, a community lei garden, animal husbandry, and more."
"This is not a DOE funded program, so it must be completely funded from outside sources," said Bachaus. Financial support has been given through numerous community businesses and private donors. Recently, the Upcountry Children's Giving Circle (UCGC), a 501(c)(3) nonprofit, provided the Ag program with a 10-passenger van that was donated to them by Goodfellow Brothers.
Lesley Alexander Castellano, President of the UCGC Board said, "UCGC pays the insurance and maintains the van for Ag project activities. We are committed to the success of the Kula Ag Science Program and to bringing resources to support this exciting new program and maintaining the traditions of Kula agriculture."
Donations and volunteers are continually needed for the Kula School Ag-Science Program. For more information call (808) 876-7610.
Chris Bachaus, Principal, Kula Elementary School