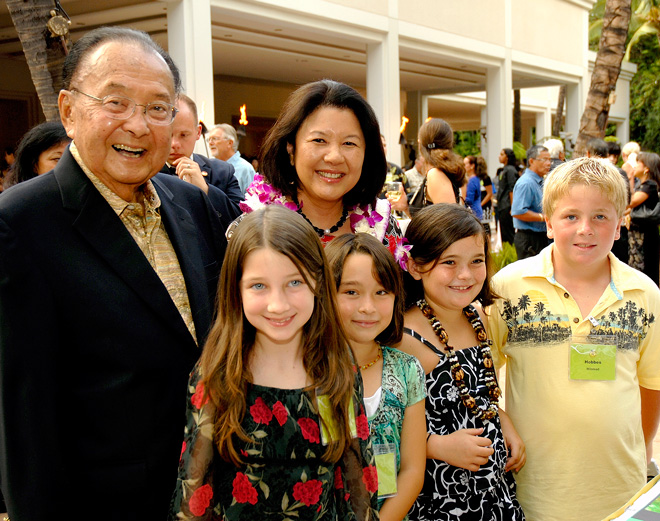 Maui Economic Development Board (MEDB) has lost a dear friend and dedicated STEMworks™ supporter with the passing of Irene Hirano Inouye, widow of the late United States Senator Daniel Inouye. Hirano Inouye was a nationally recognized leader in the nonprofit sector, with more than 35 years' experience in nonprofit administration, community education, and public affairs. Her national reputation has been built on a record of vision, collaboration, and accomplishment, as well as an unyielding commitment to the values of fairness and individual opportunity.
Leslie Wilkins, MEDB President and CEO reflected, "In 2013, MEDB, with the endorsement of Hirano Inouye, established the Daniel K. Inouye (DKI) Innovation Award to honor the late Senator's vision for Maui as an innovation center for the latest scientific and technological advances. She recognized the critical nature of MEDB's work throughout its history to enhance education and training in our community."
In past years, the senator and his wife headlined MEDB's annual Ke Alahele Education Fund dinner, with proceeds used to support and administer MEDB-led STEM (science, technology, engineering, mathematics) educational programs and to provide grants for STEM  initiatives. "The DKI Award is presented to a Maui County project team that demonstrates the most innovative use of STEM tools and capabilities to serve and improve our community," said Wilkins. "The Award is open to all Maui County students in grades 6-12 who submit a project that has a practical function and value to the community."
Hirano Inouye received the Global Ambassador Award from the Price School for best representing the mission and expertise of the school in a global setting. She served as president of the Washington D.C.-based United States-Japan Council, which enhances relations between the two countries through people-to-people connections. In addition, Hirano Inouye has been recognized for her outstanding leadership as the former CEO and President of the Japanese American National Museum in Los Angeles, and her service with prominent philanthropic and nonprofit boards across the country, including the Ford Foundation, The Kresge Foundation, the Smithsonian Institution, and the President's Committee on the Arts & Humanities, among others.
Hirano Inouye was involved in nonprofit work early in her career, serving for 13 years with a clinic for low- and moderate-income women and families. She was a gracious humanitarian!
Leslie Wilkins, MEDB President & CEO