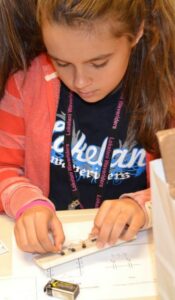 Maui Economic Development Board (MEDB) STEMworks™ recently led its 21st annual Introduce a Girl to Engineering Day (IGED). Held in conjunction with National Engineering Week, IGED helps to build and strengthen Hawaii's workforce by encouraging girls, women, and underrepresented groups into STEM (science, technology, engineering, mathematics) education and careers.
"Virtually every field in every sector of the economy is needing STEM professionals—people who are literate and fluent in various technology subjects," said Leslie Wilkins, MEDB President and CEO. "To meet this need, STEMworks empowers our youth to be self-directed learners, to be resilient, to stay current and be adaptive to change, and, most importantly, to have the confidence that they can succeed."
Designed to create interest in the field of engineering, IGED inspired over 50 middle-school-aged girls from across Maui County to pursue engineering and technology careers and raised awareness of the contributions engineers make to the community. "This memorable day-long event included an educational video showcasing the various types of engineering careers, as well as a fun, hands-on engineering activity," said Katie Taladay, STEMworks Program Manager. "It is important for STEMworks to provide and develop innovative community-based events, such as IGED, which are designed to plan for Hawaii's future generations."
Due to the global pandemic, this year the IGED event was virtual, free, and open to 6th – 8th grade girls. The agenda included a welcome with helpful information about STEM opportunities, and panel discussions followed by breakout sessions with female engineers and female students majoring in engineering. The speakers shared the pathway into their careers, role models they had, and challenges they faced. Each participant who registered ahead of time was mailed a kit to create a robot circuit popup card.During this activity, students learned about the engineering design process, simple circuits and problem solving.
Wilkins added, "STEMworks continues to train students as well as teachers in industry-standard software and engineering design practices using hands-on curriculum, regional conferences, and workshops. We work with educators, industry partners and the community to build a thriving STEM education-to-workforce pipeline throughout Hawaii. We are making a difference!"
The Mayor of Maui made an official proclamation for February 25th to be IGED Day for Maui County. Ashely Otomo, a professional civil engineer; Alyza Leyva, a student from Maui Waena; and I met the mayor to accept the proclamation
Leslie Wilkins, MEDB, President and CEO