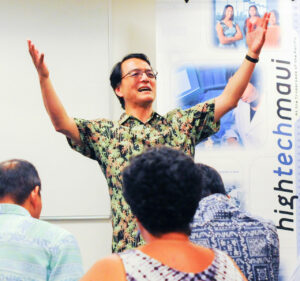 Maui Economic Development Board (MEDB) recently held an informal public event, Maui TechOhana@Cohana, featuring Dr. David Ai, Director, Office of Innovation and Commercialization and Chief Innovation Officer of the University of Hawaii (UH) System. Maui TechOhana meetings provide an informal networking opportunity open to anyone interested in Maui's technology industry.
"The TechOhana meetings are a great opportunity to share views and thoughts in an open forum," said Gerry Smith, MEDB Director of Business Development. "The reason MEDB has these events is to offer presentations on relevant topics in business and technology, followed by the opportunity to talk with others with similar professional interests."
Dr. Ai detailed how the University of Hawaii plans to work with local constituents to promote innovation and entrepreneurship throughout the state. An international expert in management and business administration, Ai has more than 20 years of experience in various positions with large corporations and venture companies. In his UH position, he is responsible for the protection of intellectual property and UH-developed technology transfers and assets.
"I am thrilled to join the University of Hawaii System, and to help drive the innovation agenda with colleagues on 10 campuses– placing the research institutes under one umbrella," said Ai. "Hawaii has a long and proud history of diversity, which is the most important ingredient of innovation."
Pamela Norris, an entrepreneur and TechOhana participant, commented on the presentation which outlined Dr. Ai's vision for his newly formed Departments within the UH system. "He brings a wealth of knowledge and broad practical experience to his position," Norris said. "Ai's vision is to upgrade the University's ability to commercialize research results by students and faculty, in collaboration with community businesses. Businesses can apply for government grants jointly with a university faculty member who may be interested in the endeavor. Moreover, leaders in the community can offer opportunities to apply classroom knowledge to real life business challenges where they partake in community solutions."
Maui TechOhana meetings will resume in the new year. Learn about these events by signing up for news and updates at medb.org
I am thankful for Maui TechOhana which is presented by MEDB, the County of Maui, Mayor's Office of Economic Development, and the Hawaii Technology Development Corporation. The meetings create opportunities for people to come together, learn, find inspiration, and make new friends.
Dr. David Ai, Director of the Office of Innovation and Commercialization and Chief Innovation Officer of the University of Hawaii System