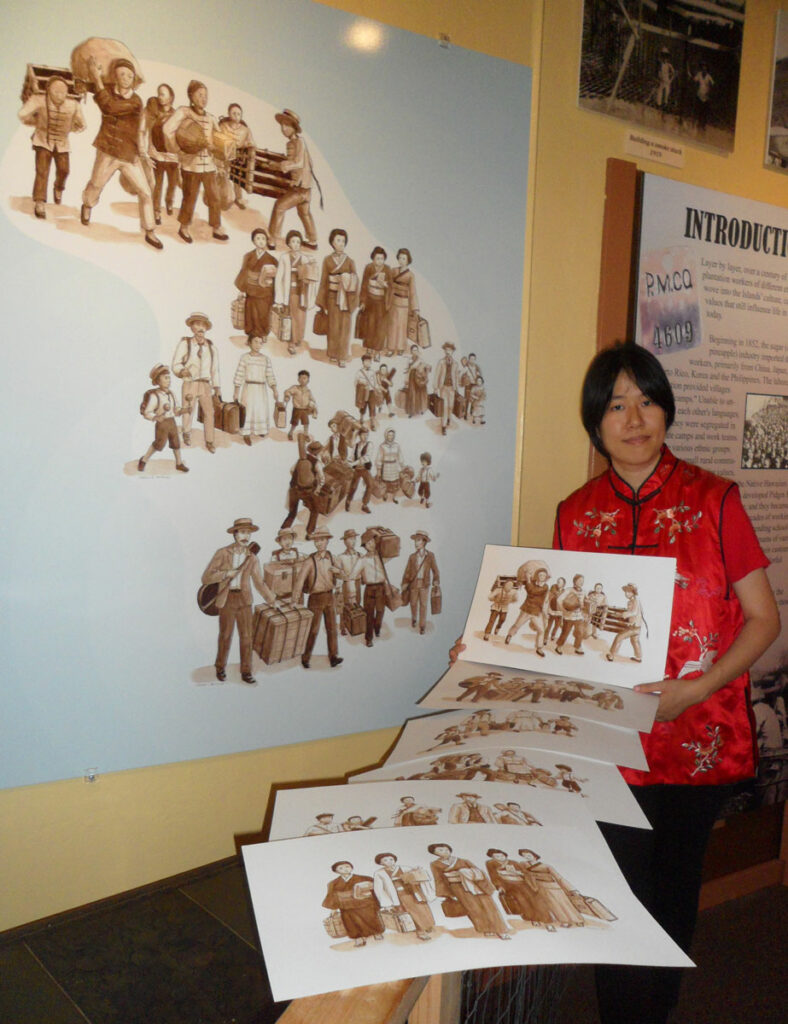 Lahaina resident Chutima Intarapanich, a cartoonist, comic artist, graphic novel artist, colorist, inker, illustrator, storyboard artist, and graphic designer, came to Maui for her master's thesis in 2016. She undertook a project illustrating the background for a collection of paintings for the Lahaina Restoration Foundation's (LRF) newly expanded Plantation Museum in Lahaina's Wharf Cinema Center. The LRF restores and protects Lahaina's historical legacies, celebrates its prominent place in Hawaii's history and cultural traditions, and shares its story through preservation of significant sites, buildings, and artifacts.
Intarapanich, who received her Master of Fine Art in Graphic Novel Illustration in 2017 from the Academy of Art University in San Francisco said, "Research was very important in this Plantation Museum project. It is also important for creating truly original artworks. My art project consisted of creating a combination of six individual illustrations, showing the immigrants from six nations that moved to Hawaii: Chinese, Japanese, Portuguese, Puerto Ricans, Koreans, and Filipinos. The story is shown in six boards combined into one illustration, each board the story of one nation, its culture and its history."
Clothes were a very big hint about the origins of people from Asia. Intarapanich had to research costume design based on what people working at the plantations in those days would be wearing.
In that time, people from a common geographic origin wore similar clothes, so she designed a combination of national costumes with influences from western culture.
"I measured the size of paper to plan how to draw the characters," she explained. "After that I drafted the outline with curvilinear perspective to get the feeling of more space between them to highlight details of their lives in Hawaii. My art supplies consisted of sepia ink and fountain pen for inking the outlines, and sepia water color with brush and an old sponge for rendering, adding color, shading, and texture. Once my research and outlines for the six illustrations were completed, I finished the inking and painting. This LRF project was an extraordinary and educational experience."
My art project at LRF illustrated and preserved art representing Lahaina's different cultures, past and present.
Chutima Intarapanich, Maui artist