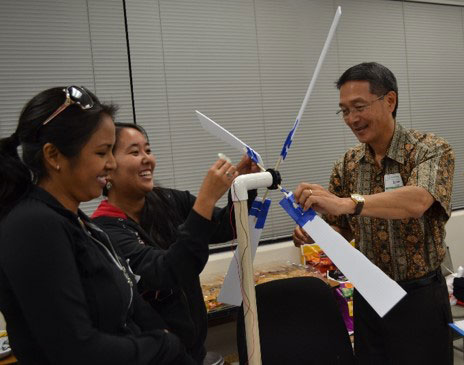 STEMworks™ Island Energy Inquiry™ (IEI), developed by Maui Economic Development Board's (MEDB) Women in Technology (WIT) Project, is the first clean-energy STEMworks™ (science, technology, engineering, mathematics) curriculum designed for Hawaii educators. It combines scientific inquiry and engineering design processes with cutting-edge materials and technologies for use in the classroom. IEI, offered at an exciting time in the state's evolution in energy production and use, engages students in rigorous explorations of real island energy issues through its Lending Libraries.
"STEMworks™ IEI is updating its statewide Lending Libraries with STEM Innovation Kits designed to equip Hawaii students with the latest educational tools encouraging critical thinking and innovative play," said Denissa Andrade, WIT Program Assistant. "The STEMworks™ program empowers elementary, middle and high school teachers on each island to be effective in their classrooms by providing teachers with technology tools, standards-aligned curriculum, professional development, access to industry professionals and ongoing support. STEMworks™ is a unique, holistic program designed to build our future generation of stewards, innovators and STEM professionals."
STEMworks™ recently delivered over $100,000 in equipment to update IEI Lending Library campuses across the state. The updates support the statewide equipment libraries already valued at over $500,000 and include iPads, iPods, thermal imaging cameras, virtual reality headsets, energy-related K-12 reading books, energy conservation meters, wind turbine kits, solar cell kits, photovoltaic panels and multimeter kits, magnetism and motion kits, and much more. "These tools allow teachers participating in our training program to have access to a full set of lab aids designed to engage students in scientific inquiry and engineering design while learning about clean energy," Andrade said.
Elizabeth Shigeta, IEI Lending Librarian said, "This is an exciting time for classroom teachers. IEI's addition of literacy books and teaching tools has teachers connecting on a deeper level with their students. Additionally, students with limited background can also continually learn. Thank you MEDB!"
Since its launch in 2009, IEI has trained over 650 teachers and more than 73,000 students in Hawaii, with 90% implementation rate.
Denissa Andrade, WIT Program Assistant