David and Ululani Yamashiro of Ululani's Hawaiian Shave Ice, a participant in Maui Economic Development Board's Maui Business Connect program, collaborated with Maui moms Jenny Coon and Nicki Barsamian to launch their second children's book, Huli the Hawaiian Chicken Searches for Snow. During the Covid-19 pandemic when many where discouraged by its impacts, Coon and Barsamian created Huli.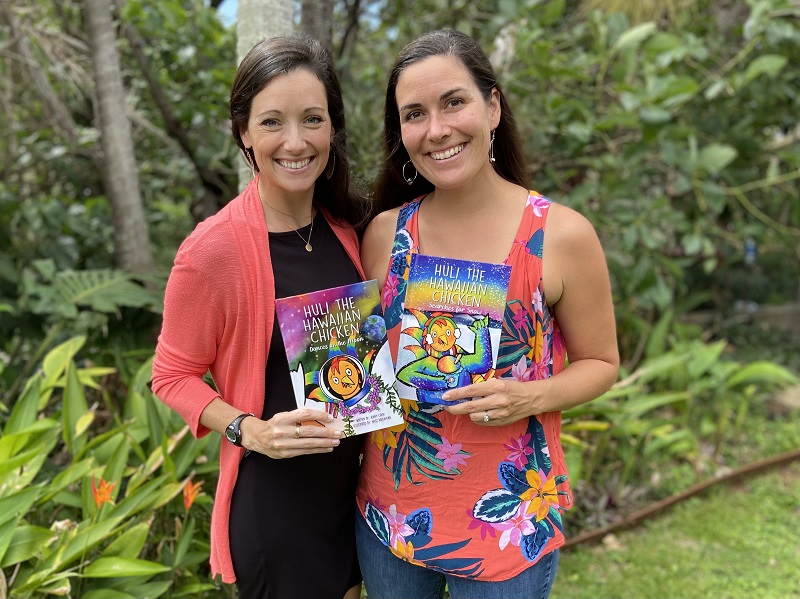 Coon had been laid off from her position as the Sales and Special Events Coordinator at Trilogy Excursions and found herself at home with her young daughters. Her toddler was learning about rhyming words and her favorite word to rhyme was chicken, which inspired Coon to create a story featuring a Hawaiian chicken. Barsamian, formerly a middle school art teacher at Kamehameha Schools Maui, had made the choice to stay home with her two young daughters when Coon approached her to illustrate her story.
"These silly rhyming words became the springboard to write about Huli," said Coon. "Barsamian and I partnered up and thought, what better way to learn about this beautiful island we live on, than to write and illustrate a fun story alongside our children, featuring our neighborhood?"
A percentage of each new book sale goes to support IMUA Family Services, a local nonprofit focusing on providing resources and educational opportunities to Maui's most vulnerable children. "In addition to featuring a local business in our stories, we decided to support a local nonprofit," said Coon and Barsamian. "With our first book, Huli the Hawaiian Chicken Dances on the Moon, a portion of sales goes to Maui Cultural Lands, a nonprofit organization whose mission is to stabilize, protect, and restore Hawaiian cultural resources."
Once the authors decided on Huli's next adventure, they approached the Yamashiros and asked if they would be interested in having Ululani's Hawaiian Shave Ice featured in their second book, where Huli searches for snow. David Yamashiro said, "We were honored to be part of Huli's second adventure. It is a lasting legacy that will be read to our keiki now and in the future. From the beginning, it has been a project of pure aloha."
Our original story, Huli Dances on the Moon, was embraced by many and the question quickly arose, what is Huli going to do next?.
Jenny Coon and Nicki Barsamian, Authors of Huli the Hawaiian Chicken