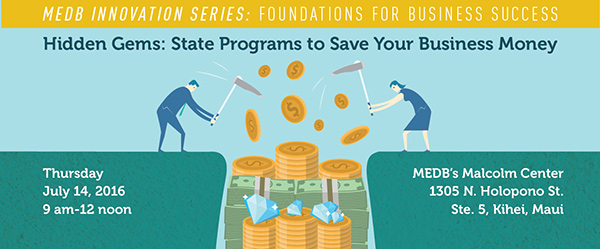 MEDB offers a powerful workshop to help you save money. Discover TWO State Department of Business, Economic Development and Tourism (DBEDT) programs that can benefit your business:
Enterprise Zones (EZ) Partnership Program
If your new or existing business is located in an Enterprise Zone (EZ), you may be eligible to receive various state tax credits and benefits for up to 7 years, including:
100% exemption from the General Excise Tax
Up to 80% non-refundable state income tax credit
Up to 80% tax credit for Unemployment Insurance premiums
Hawaii State Trade and Export Promotion Assistance Program (HiSTEP-AP)
Under HiSTEP-AP, your company could receive direct awards to participate in export marketing activities. Applicants may request a minimum of $2,000 and a maximum of $6,000 for various business activities including trade shows, travel, collateral materials, compliance testing, shipping, and other expenses.
Workhop Speakers
The workshop is free. Breakfast will be provided. Reservations are required, space is limited. It is part of the MEDB Innovation Series, Foundations for Business Success.
Thursday, July 14, 2016 • 9 am – 12 noon
MEDB's Malcolm Center, 1305 N. Holopono Street, Suite 5, Kihei