George Kahumoku, Jr., known as Uncle George, is a multi-Grammy and Nā Hōkū Hanohano Award-winning Hawaiian slack key guitar master, songwriter, touring performer, teacher, artist, storyteller, author, and entrepreneur. The Maui slack key legend is currently also a farmer with his wife Nancy at the Cliffs of Kahakuloa. "We are a small, sustainable farm in the West Maui mountains," said Uncle George. "We have mini-horses, chickens, ducks, goats and sheep, and we raise all manner of fruits and vegetables, you name it! We also feed our animals our own high-protein grains."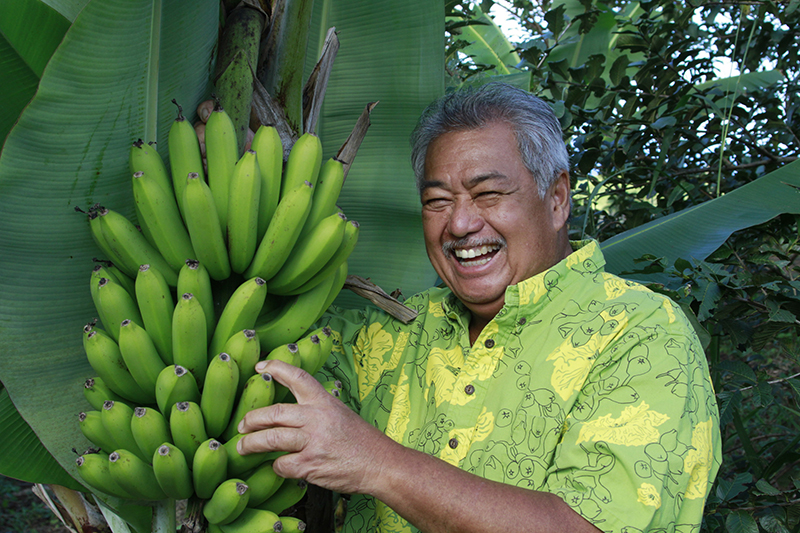 Uncle George has won several statewide and national awards for farming. In 1993 he graduated from the Hawaiˊi State Agricultural Leadership Program. He is a community leader who taught a special motivation program at Lahainaluna High School for 20 years, and has worked with children in native language studies, farming, and other programs.
Beginning his day at 3am every morning, Uncle George uses natural indigenous Native Hawaiian planting methods. Influenced by the Hawaiian moon calendar, he incorporates lots of composting, manure and mulch. He also mentors students, feeds the homeless, and shares his seeds and manaˊo with over 200 farms in Hawai'i and across the globe. The plants, herbs, animals, and food that he grows, sells, and shares are all grown with Aloha.
"My goal has always been to feed people and be sustainable," Uncle George reflected. "I was raised by my great grandfather Willy Kahumoku in the traditional Hawaiian method of mala or dry-land style of farming; using animals and fowl in an integrated sustainable system. I made a film documentary titled Seeds of Aloha and authored and did the artwork for volume one and two of the book A Hawaiian Life".
Hawaiian slack key guitarist Keola Beamer reflected, "My mom, Aunty Nona Beamer, gave Uncle George the title of Hawaiˊi's Renaissance Man because of his bountiful gifts. I am constantly amazed at his unstoppable energy. His ability to channel that special mana of creativity and storytelling into his art, farming, music and everything he does, has always impressed me. That sure feels like renaissance to me!"
My great grandmother told me if I have a dream, and can smell it, taste it, and feel it, that vision is mine. I have been blessed with the opportunity to draw on my visions.
Uncle George Kahumoku, Jr., Hawaiˊi's Renaissance Man