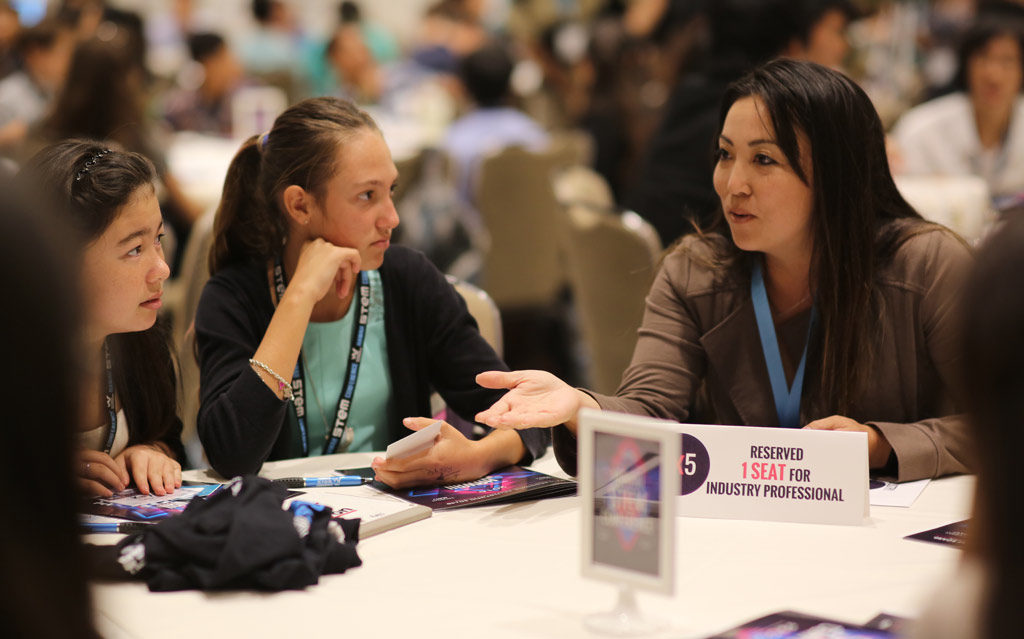 Maui Economic Development Board's Women in Technology (WIT) Project, in partnership with the County of Maui, presented the 7th Annual Hawaii STEM Conference at the Wailea Marriott Resort on May 6-7. This year, over 880 students, teachers, and industry professionals, offering some of the most innovative global technologies, attended. "Science, technology, engineering, and mathematics (STEM) education has the power to impact all of us," said Isla Young, MEDB's K-12 STEM Program Director. "Through the years, we've seen first-hand how empowering our youth with STEM skills and opportunities can make a difference in their lives and in the career pathways they choose to pursue." The two-day, "download knowledge, upload service" themed event featured 43 student breakout sessions, 16 teacher professional development breakout sessions, 15 STEM competitions, a formal awards banquet, and STEM exhibit presentations.
Kicking off the event on Friday, a timed, high-energy mixer, the 5×5 Sessions, gave students the opportunity to engage five different STEM industry professionals in a 'speed networking' format to learn about STEM career pathways, personal experiences and insights. "MEDB's leading effort to inspire these young minds during the annual STEM Conference, in addition to their STEMworks AFTERschool Programs, is simply amazing and greatly appreciated," said 5×5 industry participant Kimberly Vaitu'ulala, an engineer with Maui Electric Company. "Each year Maui Electric welcomes students from WIT programs. We offer a hands-on science project that thrills participants when they finally get their circuits working!"
During the Conference, Hawaii State Governor David Ige announced that two new Microsoft "Digi Camps" will bring the latest in advanced code training to students in Maui County next year. The County and MEDB's WIT Project are working closely with Microsoft to develop the Digi Camp agenda and promotion to local schools. "Forming an official Digital Alliance with Microsoft is a significant step toward building Maui County's future workforce," said Maui County Mayor Alan Arakawa."Given the latest challenges to our island's economy, these kinds of educational opportunities can have a lasting impact."
Every day, our lives are becoming more dependent on technology, which is why in this day and age, STEM education in the K-12 classroom is so important. The 5×5 Session is our chance to inspire the youth of Hawaii, by giving them face-to-face contact with people in STEM careers and hands-on experience with today's technology.
Kimberly Vaitu'ulala, Maui Electric Company Engineer