The annual Hawaii Energy Conference returns to the Maui Arts & Cultural Center, May 24 – 25. Celebrating its 10th anniversary, the conference is presented by the Maui Economic Development Board (MEDB) and will feature a mix of keynote speakers, panel discussions, case studies and an exhibit venue.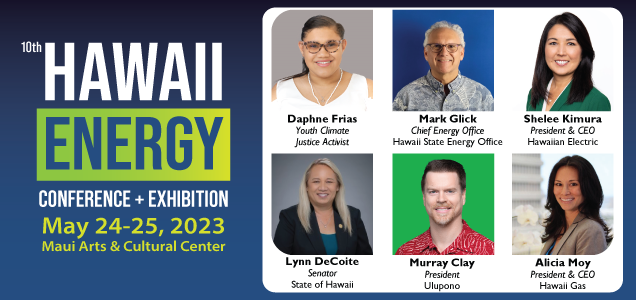 Panels will explore:
Is getting to 100% Renewables still desirable, still doable, still worth the price?
How can we get clean energy projects permitted, interconnected, and operational in a reasonable period of time?
What is the next step in our efforts toward decarbonized energy, and what role does hydrogen play?
What are the energy related priorities of the Hawai'i Legislature and the Governor?
What is Energy Equity and how do we achieve it in the pursuit of state energy goals such as 100% renewables and net-zero greenhouse gas emissions
….and more
Please visit www.hawaiienergyconference.com for more information.
There is so much to talk about at the Hawaii Energy Conference, both the formal panel discussions and all the informal 'talk story' conversations that occur away from the stage and during the breaks. Doug McLeod, DKK Energy Services, member HEC Program Committee