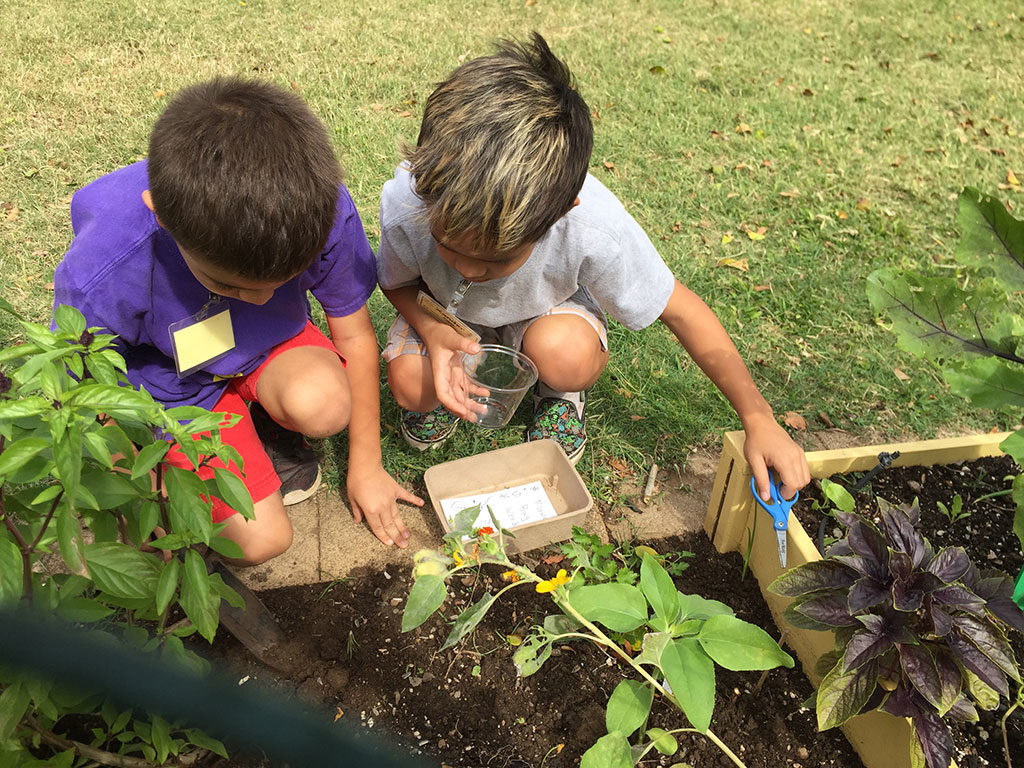 Kahului Elementary School's 1st grade Grow Some Good (GSG) garden classes recently held Garden Scavenger Hunts as a fun way to review the lessons they have learned so far in the 2016-2017 school year. "Our students learn STEM (science, technology, engineering, mathematics) subjects that help influence their understanding of the natural environment and food," said Wendy Shishido, first-grade teacher at Kahului Elementary School. "They are able to watch the decomposition process in our compost bin and all the insects and worms doing their part to help make healthy soil. The garden becomes a magical learning space when the youngsters realize we need tomatoes to make pizza!"
Each pair of students was given a collection box, courtesy of Hawaiian Moons Natural Foods, containing a checklist, scissors and a bug cup with instructions to collect the following: a flower; a bug, insect or worm; two weeds; something that smells; and a heart-shaped leaf. "They found that marigolds provided lots of flowers; they hunted down ants, sow bugs and worms; and weeds were easy to come by," said Nio Kindla, GSG Operations Manager. "Smelly items included the lemon, Thai or Italian green basil, green onions, sage lemongrass or rosemary, which all have strong smells."
The teacher checked the items for the first pair of students to complete the scavenger hunt. Subsequent pairs of students were checked by classmates. "This is where the real learning came in," Kindla explained. "As they worked and questioned each other as about whether a plant smelled enough, whether a leaf was heart-shaped enough, how to identify weeds, a real camaraderie grew."
Students improved their garden literacy, identified and described what they had found, and added new words to their vocabularies. "Some students also learned that keeping an ant in a cup has its challenges!" said Kindla.
The community is invited to GSG's annual Taste of School Gardens community-wide fundraiser on March 4th, 2017. Guests get to try school garden-inspired dishes from Maui's top chefs while supporting the school garden programs. For more information, go to growsomegood.org.
Watching 1st graders have that "aha" moment when they realize that what their parents buy in the supermarket is first grown in a garden, is priceless!
Nio Kindla, Grow Some Good Operations Manager