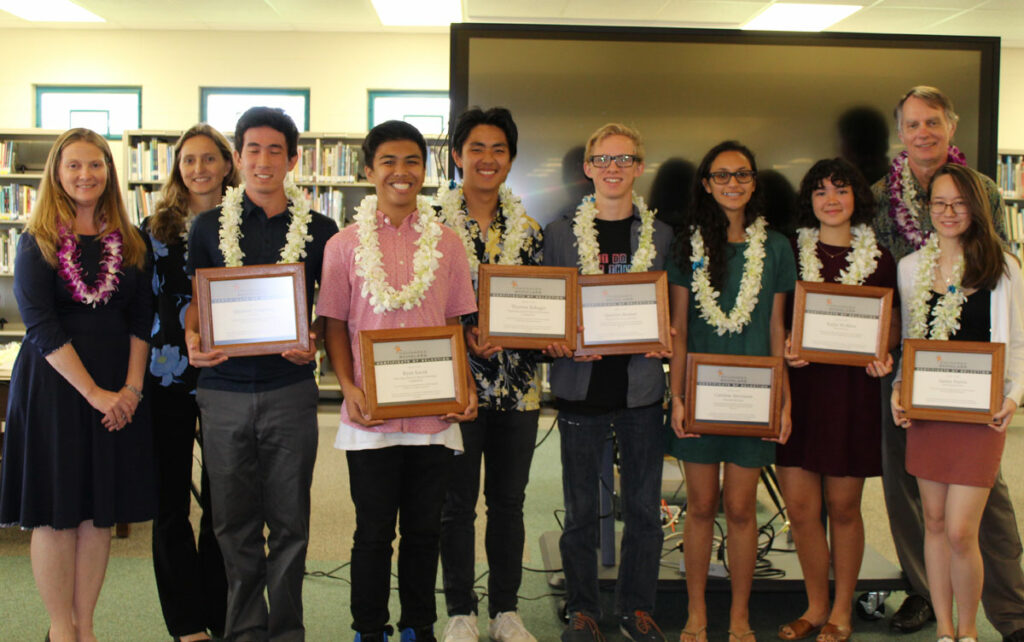 The Maunakea Scholars program, launched in 2015, created an official partnership between the Hawai'i State Department of Education (DOE), the University of Hawai'i, and Maunakea Observatories. Designed to bring Hawai'i's high school students into one of the world's most advanced observatory communities, the program's third group of student astronomers are working with 10 participating international telescopes. Contributing to an innovative STEM (science, technology, engineering, mathematics) curriculum, the Maunakea Scholars provide amazing opportunities to the next generation.
The program pairs a professional astronomy mentor with students in each participating school to coach them through the process of interpreting astronomy data and crafting an original research application. The proposals are submitted to a time-allocation community for consideration, and projects are awarded highly valuable time on participating telescopes, based on the viability of the proposals.
"King Kekaulike is the first Maui school to participate in the Maunakea Scholars program," said Emily Haines-Swatek, King Kekaulike High School MEDB STEMworks™ AFTERschool teacher. "STEMworks™ students submitted proposals to receive telescope time to conduct real research on an astronomical study of their choice. The Maunakea Scholars program partners with schools to provide observation time and summit tours. Twenty-two King Kekaulike students submitted proposals and seven students were granted telescope time during an awards ceremony on February 14th." The King Kekaulike Maunakea Scholars and their projects are: Quinton Uradomo on Dark Matter; Janine Harris on Cepheid Magnitude Periods; Quentin Beamer on White Dwarf Formation Temperatures; Ryan Siarot and Thorren Rebiguo on Observing Asteroid Colors to Determine Composition; and Caroline Stevenson and Kayla Wholers on Deep into the Storm. The latter was awarded time on two telescopes, Las Cumbres and Canada-France-Hawai'i Telescope (CFHT).
Haines-Swatek became involved with the Maunakea Scholars after meeting with DOE and CFHT representatives at the 2017 Hawaii STEM Conference. "Because of the proximity to the Institute for Astronomy and the STEMworks™ electives taught at King Kekaulike, we make a perfect fit for the program," she said. "The project stretched my student's understanding of astronomy and pushed them to dream of something much larger than themselves. They are looking forward to conducting their research!"
Throughout the year, the Maunakea Scholars program supports each classroom with educational resources, including an integrated indigenous Hawaiian perspective on modern science education, led by 'Imiloa Astronomy Center of Hawai'i.
Emily Haines-Swatek, King Kekaulike High School, MEDB STEMworks™ AFTERschool Teacher