You are invited to attend a seminar that will look at the basics of human resource management for business startups. All new entrepreneurs must navigate an often bewildering maze of tasks, rules, and regulations to get going. The goal of this interactive workshop is to set you on a path to success as you bring on and nurture one of your most vital strengths — employees.
What you will learn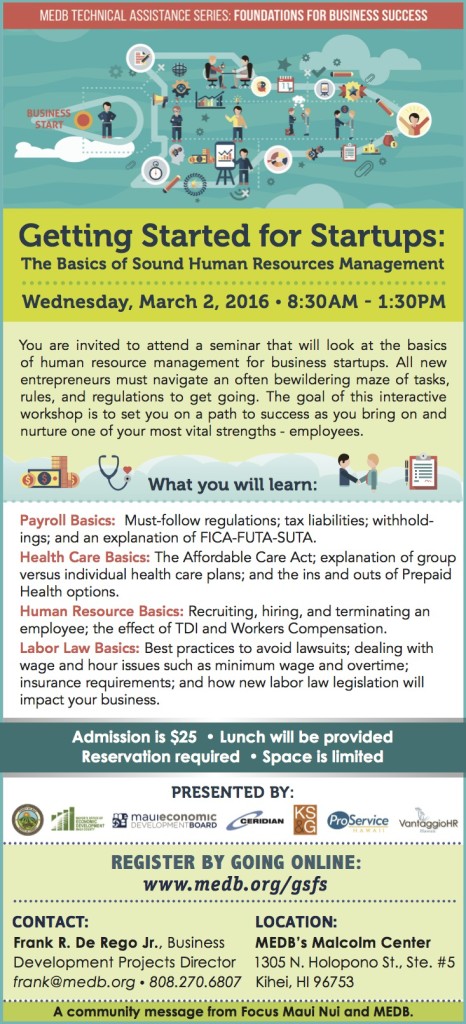 Payroll Basics: Must-follow regulations; tax liabilities; withholdings; and an explanation of FICA-FUTA-SUTA.
Health Care Basics: The Affordable Care Act; explanation of group versus individual health care plans; and the ins and outs of Prepaid Health options.
Human Resource Basics: Recruiting, hiring, and terminating an employee; the effect of TDI and Workers Compensation.
Labor Law Basics: Best practices to avoid lawsuits; dealing with wage and hour issues such as minimum wage and overtime; insurance requirements; and how new labor law legislation will impact your business.
This seminar will take place Wednesday, March 2, 2016 from 8:30AM to 1:30PM. Admission is $25 and lunch will be provided; reservations are required. Space is limited. It will be held at MEDB's Malcolm Center, 1305 N. Holopono St., Ste. #5 Kihei, HI 96753
For more information, contact Frank R. De Rego Jr., Business Development Projects Director
frank@medb.org 808.270.6807