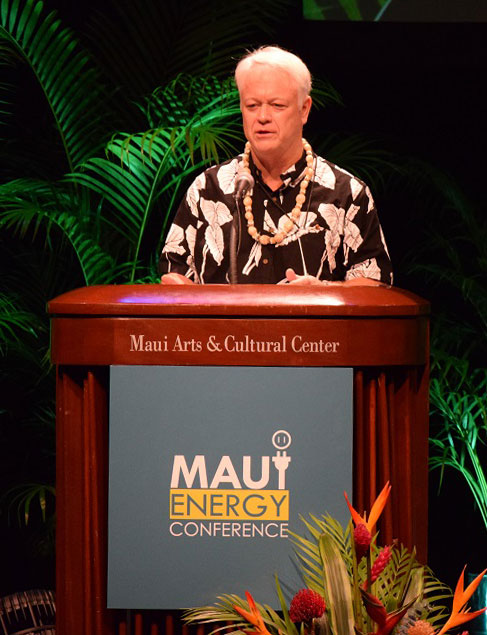 The 2018 Maui Energy Conference returned to the Maui Arts & Cultural Center to celebrate its 5th Anniversary on March 14-15. The event, presented by the Maui Economic Development Board (MEDB) and supported by the Mayor's Office of Economic Development, explored the theme Decarbonization: A Business Opportunity for Innovative Communities. The conference, featuring keynote speakers, panel sessions, case studies, exhibits and networking, attracted more than 300 energy-industry leaders from Hawaii, the continental U.S., Japan and Europe to exchange ideas about global projects serving today's rapidly changing energy industry.
Doug McLeod, Chair of the Conference Program Committee, started off the conference with a "10-minute Intro to Carbon." His remarks focused on business opportunities related to the evolving carbon markets, including agriculture. McLeod observed, "This year the conference explored carbon farming, which means using farming methods that reduce greenhouse gas emissions. Most people think agriculture on Maui cannot compete in the world markets because they think ag is about growing something and shipping it elsewhere. Ask yourself, could ag work on Maui if the transportation costs become irrelevant? That is the idea behind carbon farming."
In his keynote, State Rep. Chris Lee said that Hawaii needs to invest its dollars in clean transportation, namely electrification. "There are a number of legislative bills to lay out the framework for a clean transportation system, with benchmarks to reduce carbon as the energy market moves forward," said Lee. "Decarbonizing transportation will ultimately require updates in the maritime and aviation sectors as well."
Bike-sharing programs and e-bikes were also a topic at the conference. Lee Chamberlain from rideSMART, Lahaina, and an exhibitor at the conference said, "E-bikes are popping up all over the mainland. On Maui there are numerous bike lanes and a proposed 25-mile West Maui Greenway that will transform the abandoned cane haul road into a pedestrian-bicycle friendly community."
The conference ended with the Women in Renewable Energy (WIRE) networking reception. "MEDB is dedicated to providing opportunities for women to succeed in STEM careers, including energy. Having the WIRE networking reception is a fitting close to a conference that emphasizes diversity and inclusion," said Leslie Wilkins, President and CEO of MEDB.
Ask yourself, could ag work on Maui if the transportation costs become irrelevant? That is the idea behind carbon farming.
Doug McLeod, Chair, Maui Energy Conference Program Committee