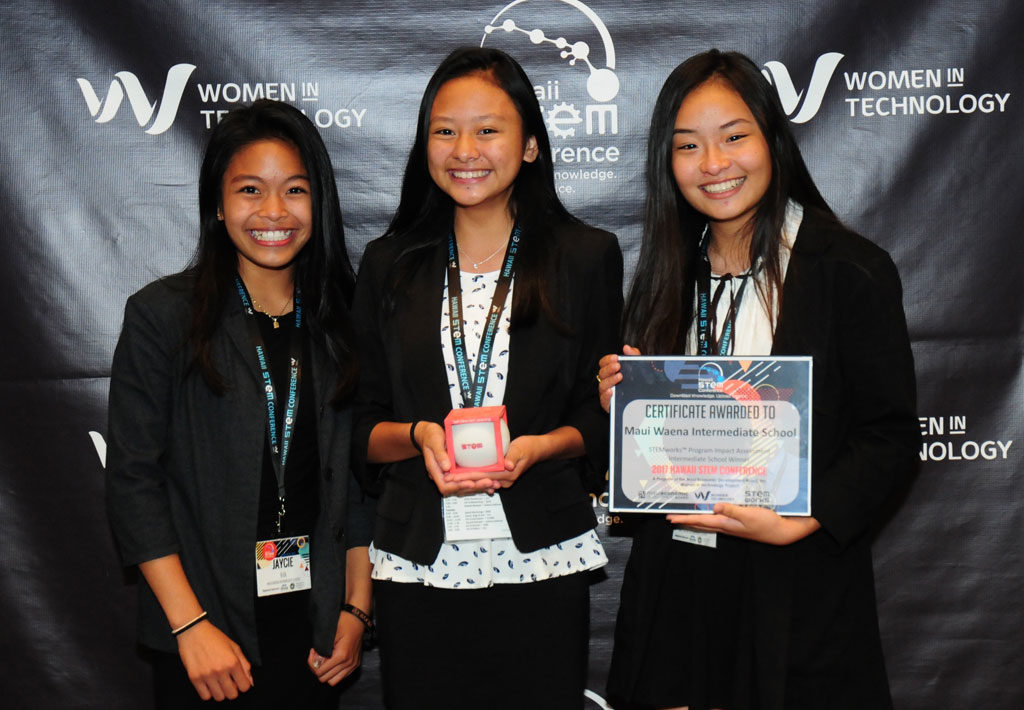 In May, Maui Economic Development Board's (MEDB) Women in Technology Project presented the 8th Annual Hawaii STEM (science, technology, engineering, mathematics) Conference at the Hawaii Convention Center in Honolulu. More than 1,000 students, educators, industry partners and community leaders throughout the state and the nation participated in this year's theme, Download Knowledge, Upload Service. Hands-on STEM activities, competitions, and access to the latest technologies showcased the student's skills. The conference featured over 40 student and teacher breakout sessions, 14 software competitions, a STEM playground, a formal awards banquet called "The Stemmy's", and exhibit presentations.
"Virtually every field in every sector of the economy, whether a small business or major industry, needs STEM professionals," said Leslie Wilkins, MEDB President. "Preparing our youth to be resilient, well-educated and self-directed learners is at the heart of all MEDB's STEMworks™ programs. That is what this conference is all about."
Jadynne Zane, Maui Waena Intermediate School 8th grader said, "Our school won an award in the Project Impact Assessment (PIA) competition. In a designated amount of time, we had to explain to the judges how our STEM club daily demonstrates teamwork, self-directed learning, and critical thinking, and how we interact with the community. One example was about a STEMworks™ team member who created an app that would allow Cystic Fibrosis patients to communicate with each other and their doctors."
"Allowing the students to select what they are proud of and plan how to present it to a panel of judges is absolutely real life and powerful," said Jennifer Suzuki, media teacher at Maui Waena School. "They have to organize, work together, and succinctly convey their information. This was just another example of what students can do when they are given the opportunity."
Caleb Soo Hoo, a senior at Baldwin High School and co-winner, with Chris Kau, of the On-Site Video Competition, concluded, "There are no boundaries when we have the chance to create our own projects. To see our visions realized is the best kind of feeling!"
STEM education has taught me there are no limits to what I can do. Thank you MEDB!
Jadynne Zane, Maui Waena Intermediate 8th grader