Dr. Leonard Sakai of Kula was recently honored by the Maui Non-Profit Directors Association. Nominated by Habitat for Humanity, Sakai was named 2022 Humanitarian of the Year. The citation reads, "Dr. Sakai earned this award for his volunteerism and dedication to give back to our community. Mahalo Leonard, for all of your hard work and helping families build strength and stability through shelter."
Sakai is a retired general surgeon with concentration in colorectal disorders including colon cancer, and was affiliated with several hospitals in the area including Maui Memorial Medical Center and Kaiser Permanente Moanalua Medical Center. He received his medical degree from the University of Hawaii John A. Burns School of Medicine and was in practice for more than 20 years.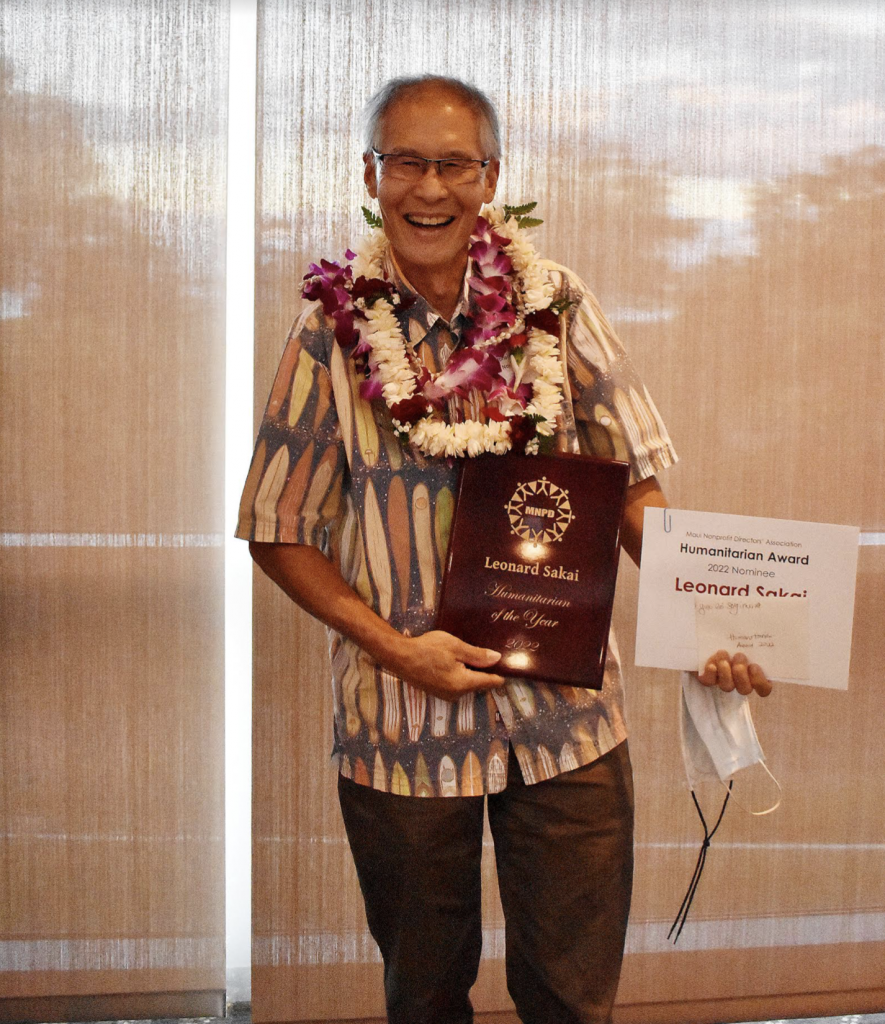 Recognized for his 'can-do' attitude and positive personality, Sakai is the guy everyone working at Habitat for Humanity enjoys being around. He regularly volunteers each week on construction sites. To date, he has contributed over 600 hours of his time across Maui, helping families at both the Kahoma Residential builds in Lahaina and Hawaiian Homelands in Kula.
Humbled, Sakai said, "I truly appreciate this award. However, I get back even more than I put in. I have been working with Habitat for Humanity for over five years. And I'll try whatever jobs come my way. There are so many different jobs to work on while building a house. In a certain way, it reminds me of surgery: a crew of five or six people and a work crew accomplish what they are supposed to get done, together. At Habitat, we also need to work as a team. At the end of the day, building houses is a different kind of exhaustion than doing surgery, but also a rewarding one. Habitat for Humanity has been on Maui for over 2 decades. It is an amazing organization."
Sakai added, "So now, I am a beginning carpenter! I am learning a whole new and useful trade. Besides, I read in AARP that it is useful for old people to learn new skills."
People talk a lot about affordable housing. The business model that Habitat has works very well. It actually created the affordable housing model.
Dr. Leonard Sakai, Maui Non-Profit Directors Association 'Humanitarian of the Year'