In October 2020, STEMworks™ partnered with the Maui Nui Botanical Garden to bring our students a STEMworks Solutions engineering design challenge called "Pots that Rot". This design challenge asked students to engineer an affordable, biodegradable pot with locally available materials that could replace the plastic pots that Maui Nui Botanical Garden (MNBG) currently uses in their nursery.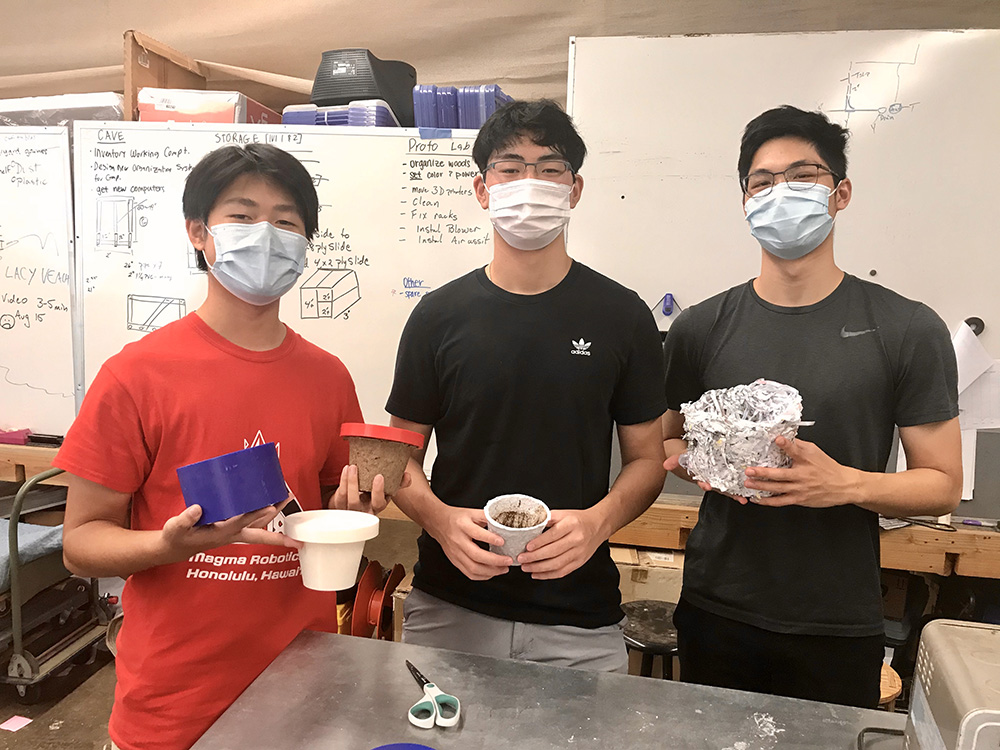 The team, "Sus-Attainable" won first place in the STEMworks Solutions Challenge with their ingenious design for a compostable pot that would be made from recycled paper and rice paste. As a prize for winning that competition, STEMworks, in partnership with Kupu and the Kōkua Hawaii Foundation, advanced team Sus-Attainable to the Hawaii Youth Sustainability Challenge where they could bring their compostable pots to life.
Sus-Attainable team members, Samuel Kim, Zitao Li, and Andy Au, received funding, mentorship, and training to support their innovative and grassroots environmental solution to plastic pots. Over a period of six months, this team employed the engineering design process to create several iterations of their pots. "For our first prototype, we plastered wet shreds of recycled paper over plastic pots," Li explained. "Then, we evolved to filling pot molds, made with a 3D printer, using a blended paste of paper, cooked rice, and water. We are proud of the resulting increase in strength and hope to increase the water resistance in our pots."
Kim added, "My favorite part of the challenge was working as a team towards a common goal, learning how sustainability affects every part of our lives. This new appreciation motivated us to use recycled paper as the primary ingredient in our pots to help divert waste from the waste stream. We hope that one day our pots will be sold as a sustainable alternative to the plastic pots in nurseries around Hawaii."
"I am incredibly proud of our Pots that Rot STEMworks Solutions winners," said Katie Taladay, STEMworks Program Manager. "Since October, they have invested a great deal of work and perseverance to bring their winning design to life using the Engineering Design Process that we teach through our STEMworks programs. I was most excited to see that they were able to use their engineering design skills for good, to produce a necessary and sustainable product for the MNBG."
I am saving one of our sustainable pots for my grandma, who loves to garden!
Zitao Li, STEMworks student