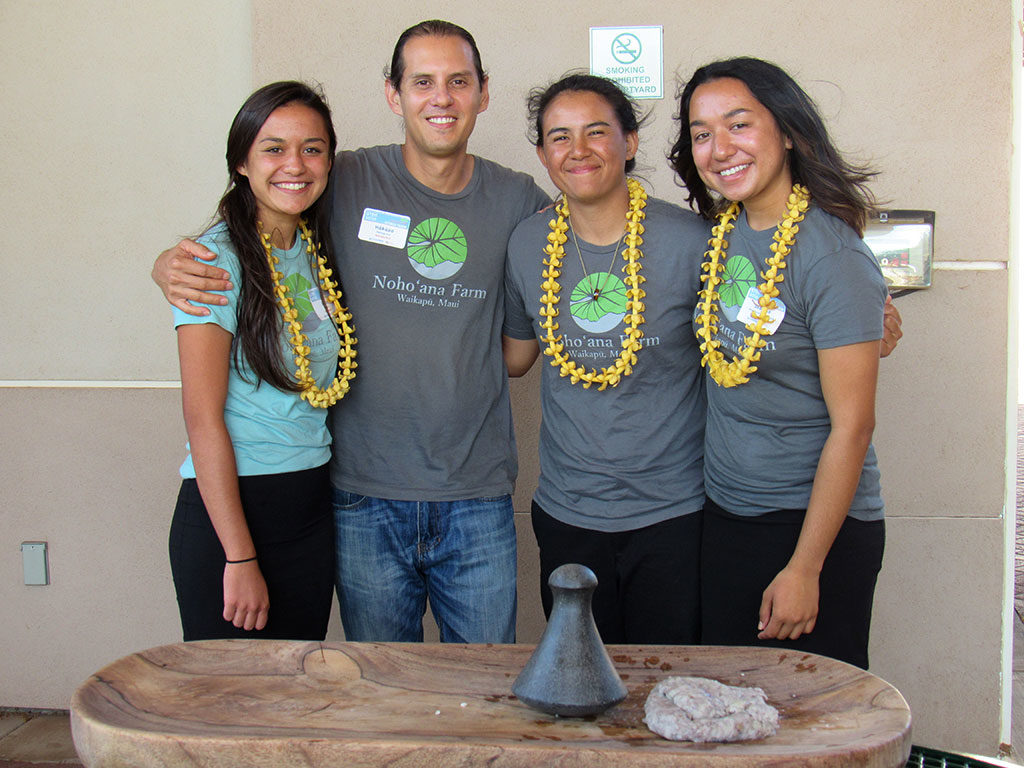 Makahiki is an ancient Hawai'ian celebration of the bounty of the 'aina (land). It punctuated the yearly farming cycle of ancient Hawaii when the 'aina was considered a living entity. People really care for it and still do.
Noho'ana Farm celebrates this natural way of life. As an energy self-sufficient, family-run farm situated on two acres of kuleana (privileged responsibility) land, Noho'ana comprises 12 ancient lo'i kalo stone terraces that are fed via the fresh waters of the Waikapu Stream. Along with kalo, other important Hawaiian and introduced crops are cultivated at the farm using traditional, sustainable and organic farming practices.
"We have developed an 'aina-based program designed to educate everyone, from children to adults, about the importance of time-honored and sustainable lo'i kalo cultivation," said Hokuao Pellegrino, owner and manager of Noho'ana Farm. "We teach the methods of traditional crop production, along with the use of plants and food preparation within an instructive landscape."
"Participants actively engage with the land while learning the appropriate cultural and natural resource management practices," Pellegrino explained. "Attendees are taught how to harvest the taro, pound the steamed roots into edible paste and cut the stems for replanting. In fact, many of our visitors get into the water and learn how to dig their heels into the mud to harvest the taro."
Pellegrino is also a mentor in the Maui Economic Development Board Women in Technology Project, STEMworks™ Summer Internship Program. This year's Agricultural interns, Noelani Reyes, Kealohalani Ka'aikala and Jade Chihara spent their STEMworks™ internship at Noho'ana Farm. "Our three interns assisted in running our summer culture and place-based program for students in grades 6-7," Pellegrino said. "Prior to engaging with the younger students, they spent a good amount of time learning how to manage the farm. This included traditional irrigation and water resource management, using farm equipment, planting and harvesting crops, and food production. Behind all of this work they learned many cultural values that are in alignment with their day-to-day responsibilities and an overall appreciation for being food stewards of the 'aina."
Our internship at Noho'ana Farm gave us a more prominent concern for environmental issues. We learned that caring for the 'aina is everyone's kuleana, privileged responsibility.
Noelani Reyes, Kealohalani Ka'aikala and Jade Chihara, STEMworks™ Summer Interns