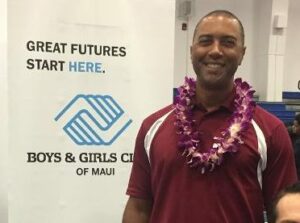 As Maui County faces uncertain times, Boys & Girls Clubs of Maui (BGCM) is still doing whatever it takes to serve youth, families, and the island community. All the clubs are open for Virtual Clubhouse Time, weekdays from 2:00 to 6:00 pm. The live, interactive virtual time adapts the award-winning programs for which BGCM has been known over the last 20 years, into a virtual environment using Zoom virtual meeting software.
"We are reaffirming our commitment to island families by opening our Virtual Clubhouse Time to all of Maui's school-aged keiki, not just our active membership," said BGCM Director of Operations, Stephen Bennett. "Our goal is to reconnect Maui, so any child from anywhere in Maui County, including Molokai and Lanai can join any clubhouse they wish. We have waived the five dollar annual membership fee until 2021, so there are fewer barriers to learning and participating in fun and engaging activities with their peers."
Utilizing the Zoom program, BGCM Clubhouse staff are providing their members a full calendar of virtual activities including Power Hour, Project Learn, Smart Moves, Fitness-at-Home, Nutrition-at-Home, Hawaiian Marine Science and Ecosystems, Electronic Smoking Device/Anti-Vaping Education, Bridge2Math mathematics support, Keystone and Torch Club programming, and more. The Zoom platform gives BGCM the capacity to host up to 300 members at a time and provide safety measures, enabling their staff to have control over audio and video connections. Students have great interaction with their friends, seeing and talking with them safely. Also, the staff ensures that appropriate behavior is exhibited and acceptable content is shared. Zoom provides the means to do this, allowing only authorized visitors to join the virtual sessions.
"We want to make sure that we are available to the youth and their families with a sustainable platform that can keep them safe," said Bennett. "Our programs are specifically designed to offer academic support as well as social interaction. Our staff is committed to taking care of our kids, and they have become virtually strong. Thank you to all of our community partners, supporters, and donors. Stay safe and healthy!"
The Virtual Clubhouse is here and it is fun! We are posting a calendar so you can choose what most interests your child at www.BGCMaui.org
Stephen Bennett, BGCM Director of Operations