Volunteers with the Nisei Veterans Memorial Center (NVMC) and Maui United Way handed out 8,000 face masks during their GivingTuesday "Be a Hero, Wear a Mask" campaign. GivingTuesday, a global generosity movement, launched GivingTuesdayNow in response to the COVID-19 pandemic. "I appreciate the effort to prevent the spread of COVID-19 in our community," said Mayor Michael Victorino. "Our success in leveling the curve comes from members of our community working together to keep each other healthy, especially our vulnerable kupuna. Mahalo to the NVMC and Maui United Way for helping to keep Maui strong."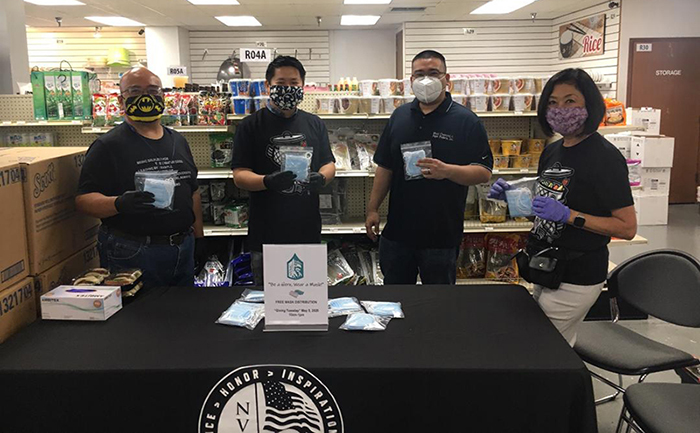 The masks are part of Every1neHawaii's Masks4All campaign. The Honolulu nonprofit successfully brought in 2 million masks, disbursing them to all islands across the State. The goal was to make the face masks available at no charge to those most in need. Free face mask distribution sites included TJs Grocery Outlet, Island Grocery Depot (Kahului and Lahaina) and Pukalani Superette. Mask giveaways were also donated to Hale Makua and Valley Isle Federal Credit Union. Giveaway volunteers included Mayor Victorino, professional surfers Kai Lenny and Ian Walsh, and members of the Maui delegation from the Hawaii State Legislature.
"This was indeed a community effort, and we are thankful to Every1neHawaii for the masks and for the support we received from all of our partners to ensure the masks got to the community," said Deidre Tegarden, Executive Director of the Nisei Veterans Memorial Center. "We initially received 160,000 masks, which we were able to distribute through Maui United Way and other local nonprofit partners. We could not have distributed the masks so quickly if it were not for the amazing team at Maui United Way, who continually work to address Maui's most vital needs through the impact areas of education, economic sustainability, and health."
Tegarden added, "The NVMC, whose mission is to ignite human potential by inspiring people to find the hero in themselves, and Maui United Way joined as partners to address the pandemic and inspire people to give, advocate, and volunteer. Stay well. Follow the standard tips for safety. We will get through this together!"
The goal of NVMC and Maui United Way is to bring our community together around a common cause, such as aiding those in need during this pandemic.
Deidre Tegarden, NVMC Executive Director