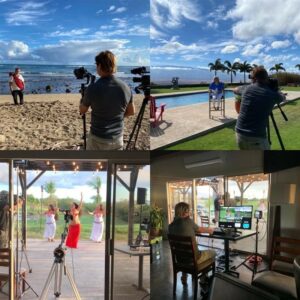 The 21st, and first virtual, Advanced Maui Optical and Space Surveillance Technologies (AMOS) Conference and EMER-GEN® program, presented by Maui Economic Development Board (MEDB), helped foster important dialogue and international collaboration on the space environment, at a time when global security is rapidly changing. Known as the premier technical conference in the nation devoted to Space Situational Awareness (SSA) and Space Traffic Management (STM), AMOS offers a cross-section of private sector, government, and academic participation worldwide.
On short notice, the AMOS team made the inaugural all-virtual conference experience engaging and fruitful. The combination of live-streaming, on-demand sessions, networking chatrooms, and digital exhibits gave participants the opportunity for sharing knowledge within the SSA and STM community. Additionally, an Aloha Reception featuring Hawaiian music and Tahitian dancing transported participants from around the world to paradise in anticipation for their 2021 in-person return to Maui.
"Even virtually, Hawaii's unique sense of place set the tone for the AMOS collaborative exchange and discourse," said Leslie Wilkins, MEDB President and CEO. "We had 884 participants from 26 countries spanning 19 time zones around the world. We were honored that so many participants chose to share their time with us as we delved into three days of enriching discussions and technical excellence."
Sandy Ryan, MEDB Conference Director, added, "We forged exciting new territory and our team developed a robust digital experience for our presenters, participants, sponsors, and exhibitors, The health and well-being of participants was our highest priority while maintaining the important dialogue, the networking opportunities, and the Aloha Spirit that AMOS is known for."
Tim Flohrer, Space Debris Analyst and Co-Lead, Space Surveillance and Tracking Segment, European Space Agency, said, "I was delighted to see that despite being 12 hours away from Maui, and missing the scenic location, MEDB's efforts made it possible to ensure a lively exchange in a virtual environment. The transition enabled the high quality technical, policy, and networking valued by the SSA community. Many important talks occurred about the future of space around Earth and beyond. We are all looking forward to the prospect of safely gathering on Maui for the AMOS conference next year."
The continued growth in AMOS attendance and the number of participating countries reflects the growing interest in space sustainability and space industry initiatives.
Leslie Wilkins, MEDB, President and CEO