Maui Economic Development Board (MEDB) is administering the Adaptability Fund, a program to help local small businesses recover and survive the impacts from COVID-19. Funded by the federal CARES Act, and as proposed by the MauiCARES Task Force, the County has allocated five million dollars to the Fund. Businesses use the grants to modify operations and invest in technology infrastructure to expand virtual platforms, web-based marketing, and E-commerce.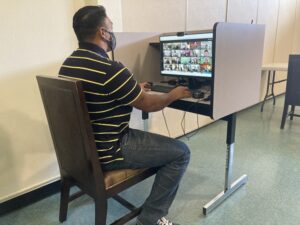 According to Leslie Wilkins, MEDB President and CEO, "Since the onset of the COVID-19 pandemic and the mandatory closure of many Maui County businesses and visitor-industry activities, health and safety protocols have required costly investments by Maui County businesses to operate safely, re-tool operations, and expand customer markets. The Maui County Adaptability Fund was established to help our local businesses adapt to this new economic environment."
Malia Bohlin, Aloha House Development Director, said, "With funds provided through the Adaptability Fund, administered by MEDB, our organization was able to address concerns due to physical and technical limitations. We set up socially-distanced workstations, so clients could log-in from our facility, and we improved our technical capabilities to provide better content. Our staff are thrilled with the new tools, and are better able to provide necessary programs with more engagement and progress for the clients. We have also retained many clients who previously may have had technical barriers to treatment via telehealth. Thanks to the Adaptability Fund, clients at Aloha House's outpatient drug treatment program have been able to participate safely in group and individual treatment settings."
Aloha House, founded in 1977 as a treatment program for individuals struggling with substance abuse, makes it possible for adults on Maui to change their lives and the lives of those closest to them. "We help participants rediscover their strengths, learn from their experiences and create new pathways forward in health and wellness," Bohlin added. "Since its beginnings, the Aloha House mission has expanded to include comprehensive, person-centered behavioral health interventions for the prevention and treatment of individual substance abuse and other disorders. Our staff members are passionate about helping people achieve lasting recovery."
We appreciate MEDB's work with the County of Maui to quickly manage the application and award process during this critical time.
Malia Bohlin, Aloha House Development Director