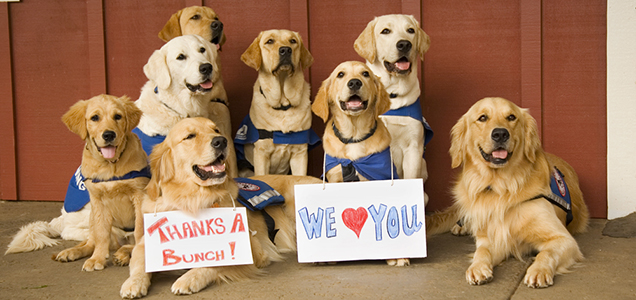 Love is in the air! Assistance Dogs of Hawaii (ADH) is celebrating their 20th anniversary — graduating over 100 service dogs to serve in the community — individually and in community outreach programs such as hospitals, courthouses, and child advocacy agencies across the state.
"We specialize in training service dogs for children and adults with limited mobility," said Executive Director Mo Maurer. "We approach the matching process from both sides — client and dog — knowing the client's expectations, then training the dog with additional tasks specifically for its human partner. The dogs learn over 90 commands and assist their partners by performing tasks such as opening doors, finding help when needed, and turning on and off lights. It has been amazing to see how the dogs really go above and beyond once they are placed with their partners—they seem to have a sixth sense about knowing what they need. Our upcoming ADH Annual Valentine's Benefit Event on February 22nd makes this all possible plus placing Service Dogs with lifetime follow-up support."
Over the years, ADH dogs have rescued their partners from drowning, as well as alert a family member during a life-threatening seizure. "Dogs are extremely intelligent and have so much untapped potential to help people in need," Mauer explained. "We published the first study teaching dogs to detect life-threatening bacterial infections in humans. Their accuracy rate was incredible and shows this has the potential to save many lives. We have been invited to present these findings at an infectious disease conference in Europe later this year."
Sharon Dahiquist, ADH Assistant Director said, "I feel so lucky to have a job that is so rewarding—to truly help make peoples' lives better. Our service dogs have enhanced, extended, and in some cases saved the lives of their partners. When Hawaii resident Melanie Johnson was trapped in a house fire, her service dog 'Freedom' brought her the cordless phone, and later pulled open the door to let the firemen in". Johnson exclaimed, " I would not be alive today if it were not for Freedom. He is my hero!"
Sometimes, even medicine cannot bring the feeling of love, wellness, and safety that a service dog can. For more information visit: www.assistancedogshawaii.org or call (808) 298-0167.
Mo Maurer, ADH Executive Director