The 9th Annual Hawaii Energy Conference revisits the challenges of electrifying the grid and transportation – current successes, potential pitfalls, and future opportunities. There is no doubt that the push to Electrification will affect our way of life.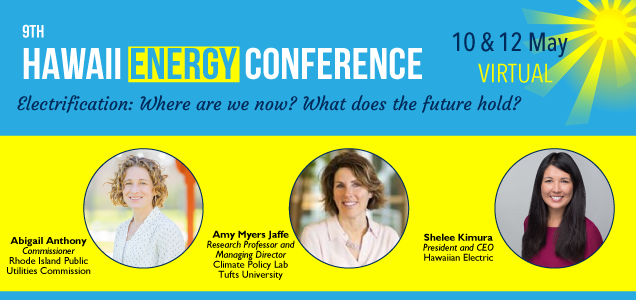 A study by Princeton University predicts that by 2050 electrifying transport and buildings could double the amount of electricity consumption in the U.S. Amy Myers Jaffe, a research professor at Tuft's University, boldly declares in the Wall Street Journal, "The electrification of (almost) everything is coming, and we're just not ready for it." Our communities will need to develop disciplined, proportional responses to the challenges Electrification poses. Strategies for energy efficiency and the equitable distribution of Electrification's benefits must balance building capacity for increased consumption.
Join us at the Hawaii Energy Conference for a two-day discussion that will review the issues surrounding electrification with the following thoughts in mind:
* How do we define "electrification" and is it the same everywhere?
* How are the community's needs and concerns being addressed as the infrastructure for electrification become more prevalent?
* How is resilience being brought into the equation of electrification?
* What has been and will be the impact of COVID-19 on customers of the utility?
* What should the climate goals of electrification be – net zero carbon, net negative carbon, or zero emissions?
* What is the role of energy efficiency in electrification? …and more
The 2022 Hawaii Energy Conference is on May 10 and 12. Learn more and register at https://hawaiienergyconference.com. Use code FMNHEC to save.