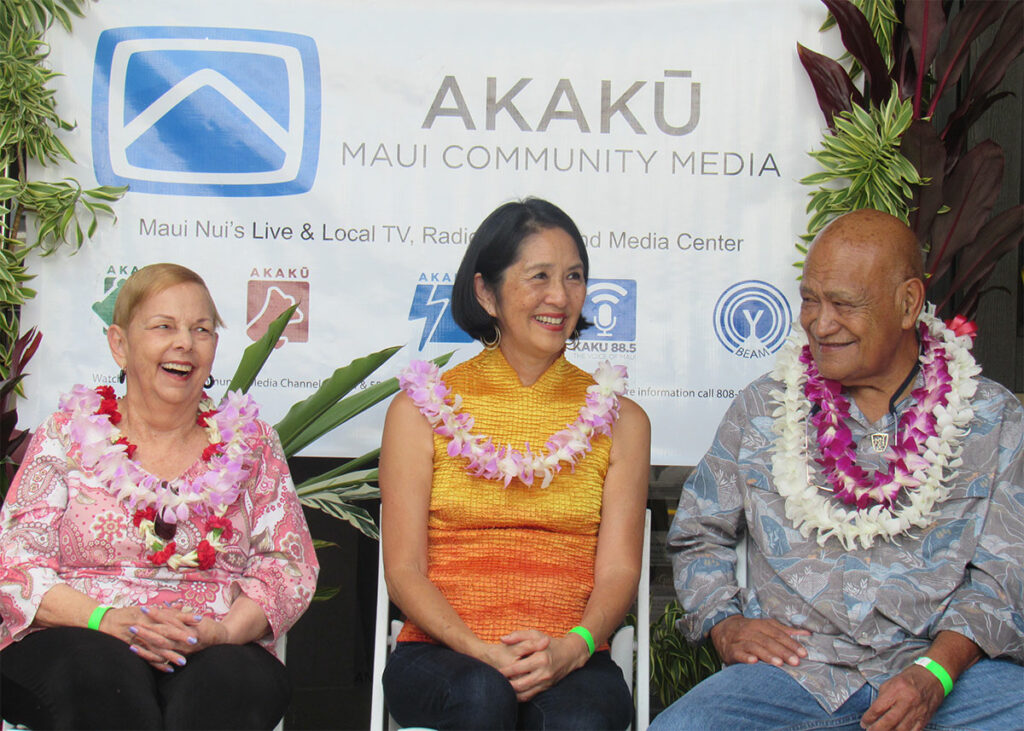 Akaku Maui Community Media presented its 5th Maui Walk of Heroes with a 'Hands and Feet in Cement Ceremony' honoring this year's special guests, Former Maui County Councilwoman Chair Gladys Baisa; former Maui Economic Development Board (MEDB) CEO and president Jeanne Skog; and Uncle Les Kuloloio, defender of Makena and treasured kupuna.
In the most outstanding outdoor party of the year, three of Maui Nui's favorite heroes were proudly enshrined alongside previous inductees. "We are honored to enshrine the handprints and footprints of these Maui Nui true heroes in cement," said Jay April, CEO and president of Akaku. "The positive influences that Gladys, Jeanne and Uncle Les have had on keeping Maui No Ka Oi is immeasurable. It is hard to imagine life on Maui without their amazing contributions to our common good."
Baisa said, "I'm honored to be a hero at Akaku. I've always liked to bring people together to focus on a goal. I'm Ms. Fix It! If there's a community problem, I'll find a way to get involved because that's what aloha is all about. If you want to do it well, you must commit your life to the job. My advice to the youth of today is to focus on appreciation. Be kind and do what's right."
Skog added, "I too am humbled to be honored by Akaku. For 33 years I was inspired by MEDB's mission to solve problems in the community by building a stronger economy for a better quality of life in Maui County. I had a lot of support at MEDB where everyone works together. I'm now volunteering in the community and consulting—my way to 'Pay it Forward.' My advice for today's youth is, 'Be Fearless!'"
Also honored to be at Akaku, Uncle Les concluded, "For me it's all about family and community, protecting sacred places, and how we all fit together. Live the true meaning of 'aloha' and be a true keeper of the culture, with a deep sense of kuleana. Our youth need to overcome obstacles, stand firm, and love one another."
It was wonderful to be part of MEDB's vision to lead and inspire innovation in business, education, and technology, helping to lead the community toward building a vibrant economy. What a joy to be honored at Akaku with Gladys and Uncle Les!
Jeanne Skog, MEDB Former CEO & President