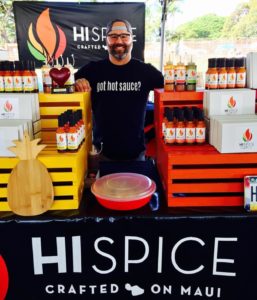 Maui County's largest products show, the annual Made in Maui County Festival (MIMCF), returns on November 3 and 4th, 2017. Now in its fourth year, this popular event, presented by the County of Maui Mayor's Office of Economic Development and the Maui Chamber of Commerce, features over 140 vendors offering a wide variety of products made in Maui County, including foods, art, crafts, jewelry, fashion, furniture, gifts, collectibles and more, all in one location, the Maui Arts & Cultural Center in Kahului. MIMCF is a showcase for our local companies to take their business to the next level while attracting thousands of visitors and residents.
The Festival will be the first major show for many businesses – as well a return event for others. MEDB regularly collaborates with local organizations focused on economic development. Gerry Smith, MEDB Director of Business Development notes, "It is incredibly rewarding for us at MEDB to see our program participants scale their businesses to successfully sell their product lines to 10,000+ expected buyers! We all have the same goal in mind: the success and growth of small businesses on Maui.".
Justin Orr, owner of HI Spice-Created on Maui, said, "I attended an MEDB presentation titled Break Even Point, given by Gerry Smith at a recent Maui Food Innovation Accelerator class. Smith provided suggestions on how to capture the costs of doing business—helping us understand sales forecasts, production capacity and how much our product costs to manufacture. He gave hypothetical story lines involving businesses and different scenarios involving 'what ifs' and I was hooked. I was often wondering what exactly my break-even was with our business. I have recommended MEDB classes and workshops to other new business owners because MEDB provides an invaluable community resource."
Orr continued, "My wife Katie and I created our home-grown hot-sauce business, which we launched at last year's Festival after discovering we had a knack for growing peppers. We have been collaborating with local farmers to bring a truly Maui-crafted hot sauce that is inspired, grown, and made on Maui. We have eight flavors to sample. Visit us and spice up your day!"
We support 'local' with every facet of making batches of craft-style hot sauces. We are bringing you a farm-to-bottle sauce experience. Thank you MEDB for priceless business advice!
Justin Orr, HI Spice